Lu earns Tops in Texas for photo; Publications students earn other awards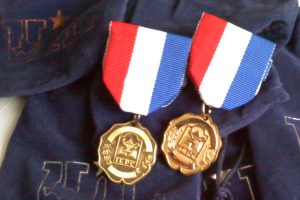 A portrait taken by Kerronicle photographer Anh Lu has been chosen as Tops in Texas by the Interscholastic League Press Conference.
Lu place first in Class 5A in the portrait category, then her photo — of exchange student Leandro Fontes-Correa — was judged against first place entries in other classes before receiving the top award. The photo will appear in ILPC's Tops in Texas booklet next year.
Other awards earned by Kerronicle and Safari staff members in the Individual Achievement Awards competition include:
Current Year Yearbook Club Spread: honorable mention for Cynthia Serpas, Raymond Luu, Laura Atuesta and Julia Taboh.
2013 Yearbook Club/Organization Feature Story: first place for Maithy Tran.
Academic Feature Story: third place for Yen Tran.
Headlines: honorable mention for the Safari Staff.
General Interest Spread: honorable mention for Jun Tan; he also earned honorable mention for secondary coverage graphic and honorable mention for club/organization photo.
Student Life Feature: honorable mention for Christina Huynh.
Print Newspaper Sports Action Photo: first place for Julie Nguyen.
Page One Design: first place for Anh Lu.
Double Truck Design: second place for Nadia Zulfa, Hadiqa Memon, Tuong-Phi Le, Yen Tran and Diana Vu.
Entertainment Feature: second place for Amy Haokip.
Captions: third place for Julia Nguyen, Tuong-Phi Le, Alyssa Andaverde and Nadia Zulfa.
Headlines: honorable mention for Lu, Zulfa, Haokip, Andaverde, and Julie Nguyen.
Online Newspaper Photo Story: second place for Anh Lu.
Computer Art: second place for Hadiqa Memon.
The awards were announced at this weekend's ILPC Spring Conference in Austin.