Theater class interprets 'Go Ask Alice'
All teenagers have problems, be they social, emotional, addiction, or just plain old bad luck.
"Go Ask Alice" is one of the most captivating stories of a teenage girl who ends up falling off the wagon and into the wrong crowd. The play was based on the book, Go Ask Alice, which was written in 1971, and published under the authorship of Anonymous.
The story is actually a diary of a sensitive, unnamed 16-year-old girl who struggles with drugs and has social and emotional problems.
On Friday, January 6, the second period theatre class gave its own production of "Go Ask Alice." In their depiction of the story, the protagonist, played by Junior Cassandra V., was given the name of "Alice," when originally the girl's name is unknown. The title Go Ask Alice originated from the lyrics of Jefferson Airplane's song White Rabbit. The song was said to have had drug references that was undetectable by radio censors. The name "Alice" actually has nothing to do with diarist at all, except for the reference to doing drugs. Usually, such an alteration would take away from the story all together, but in the case of this cast, it seemed to connect the girl to the audience more. By giving her an identity, the girl was able to assume the role of an actual teenager and potentially relate to the audience she reaches out to.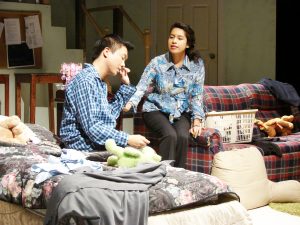 However, the play did not give much emphasis on the diary and all of Alice's problems. Her diary was her way to express what she felt and reflect upon her life's events since she felt that she could not talk to her parents. The cast did, however, give emphasis to the tension between Alice and her parents,who were portrayed by senior Dennis C. and sophomore Jackie C. Voices were raised just right for the audience to acknowledge the fact that the relationship between Alice and her mother was rocky. 
Unfortunately, their character, Alice, did not have much of a medium in which to vent her anger and anguish. The audience was vaguely aware that Alice still kept her diary after she left home, when her friend Chris asked if she was going to write down how she felt about her parents not seeming to care about her and not treating her the way she should be treated.
There was also a bit of confusion as to when she became addicted to drugs and what drug she was addicted to. In the original story line, the diarist was given a soda laced with LSD. In the play, the audience heard Alice ask a question about the drinks being spiked, but not much else was mentioned about her taking the drug, nor did they mention that she willingly took more LSD in the days following the party. However, in spite of all this, they did manage to tell of her addiction to sleeping pills, and further constriction on her relationship with her parents.
But aside from this, the play grasped the attention of the audience. Instead of completely making it a tragic saga, the cast added a bit of humor and sentimental moments between Alice and her friends and family. The introduction of her friends Beth (freshman Rosie T.) and Sammy( freshman L.) was quite a laugh, featuring Sammy following Alice around her room and telling her that she is pretty and that he wants to kiss her, followed by her telling him that he is weird.
Her sincere and close relationship with her friend Chris (freshman Nosa I.) was illustrated by how committed she was to going with her when Chris needed to "get away," and also through her concern for Chris to return home to her family. There was a very touching relationship between Alice and her sister Alexandria (junior Amanda V.), and her brother Tim ( freshman Calvin N.).
The ending the cast gave was still as sad as the original, but they mastered showing how Alice came to be happy and know that her parents cared for her.