Having an 'eggs-cellent' time at The Egg and I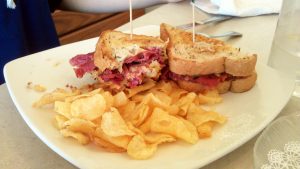 On my first trip to the very-hyped, breakfast-oriented diner known as The Egg and I, it was obvious that this place was going to become a regular joint for me. The large portions of food are reasonably priced and the atmosphere, coupled with the friendly service, definitely place this restaurant on the sunny side.
According to a dozen of my friends who are dine-out fanatics, The Egg and I, located on Kirkwood and Memorial,offers spectacular food and great, friendly service. I never really bothered to check it out, hoping to avoid bandwagoning, but after hearing about the same restaurant for months and months, with the same positive reviews, I cracked.
Accompanied by Joanna Arias and Phil Pham on my adventure, I found the exterior of the restaurant mundane. However, once inside, I felt transported through time to the past, landing directly in a southern diner filled with laughter, conversations exchanged between waiters and their guests, and food that had me drooling before I saw the menu.
As a big fan of Eggs Benedict, I was pleased to see a whole section of the menu marked off for Benedict dishes and I eventually settled for the Crabcake Benedict:  two grilled crabcakes topped with tomato slices, two poached eggs and in hollandaise sauce, all served with an English muffin, all for $9.69. Phil ordered the Reuben sandwich: corned beef, melted Swiss cheese, Thousand Island dressing and Bavarian sauerkraut on grilled rye bread. Joanna ordered the Viva La France: two pieces of French toast, two eggs and two strips of crisp bacon or sausage. Costing $8.99 and $7.99, respectively, the portions and quality were reasonable to say the least: each person was satisfied, full, and had enough for themselves and to share.
Our dishes arrived in a timely manner and each dish was well prepared. The crabcake, composed of crab meat and seasonings, tasted fresh; the egg was poached to perfection; and the hollandaise sauce mixed with the egg yolk to provide a creamy and thick sauce for the dish. And although the English muffin was simply toasted, I was surprised how much flavor it brought to the table. The neat thing with this dish was that you could eat each component of it individually or you could neatly put all the component on the muffin– but no matter how you approach this dish, each bite was an "eggs-plosion" of different flavors.
Phil's Reuben was nothing less than great. Neither Phil nor I have actually ever had a Reuben before: Getting it was a complete "eggs-speriment" and we were both overjoyed that it was definitely worth it. Each bite was full of flavor from each component: the tangy Thousand Island tingled my taste-buds, the contrasting flavors of the smokey corned beef and the salty and sour taste of the sauerkraut performed the salsa on the dance floor of my mouth, and the bread and cheese formed the foundation of this masterpiece.
Joanna's dish was probably the most surprising. In my past experience, French toast has been nothing significant, just a substitute for pancakes or waffles. But after I sampled some of The Egg and I's fantastic toast, I was at loss of words; it exceeds all "eggs-pectations." Never have I had French toast that was so well-prepared: A perfect paradox of toasty yet soft, filling but leaving you wanting more, rich and thick yet light and fluffy. The cherry on top of this sundae was the maple syrup, tying together all the flavors into a mini "eggs-travaganza".
But The Egg and I continued to impress: the service also lives up to the hype, as I observed many waitresses and waiters having conversations with other diners and laughter filling the restaurant. Our own waiter, Mr. William, was very friendly and accommodating to us. He checked frequently for our satisfaction, but not so much for it to become a nuisance. His character seemed genuine and sincere and altogether added to a great feeling of hospitality.
The only complaint I had was that at the very end, when it came time to pay the bill, our waiter was nowhere to be found. I eventually saw that he was caught up with several other tables, which was understandable, so in the end, nothing spoiled my trip.
The Egg and I provides great service and very good food at an appropriate and reasonable price, and features a very inviting atmosphere. It's definitely worth a visit the next time you're dining out for breakfast. Just be aware of their hours of operation, which are from 6 AM to 2 PM Monday through Friday, 6 AM to 2:30 PM on Saturdays, and 7 AM to 2:30 PM on Sundays. Accommodating these hours, however, will definitely be worthwhile. Altogether, this place deserves the rating of an 8.5 out of 10. That's all yolks!