If there was ever a "hot-spot" for movie releases, it would have to be the summer season. Production companies know that this is when young people have more free time, money, and fewer preoccupations with studies. With this in mind, summer is the ideal time of the year for movies to make their appearance.
But even though the successful "Jaws" in 1977 and "Star Wars" were summer flicks, not every movie that makes it to the big screen in hot weather is interesting and successful.
Here's a list of my five most and least anticipated movies of Summer 2011.
Five most anticipated movies of summer 2011:
1)    Harry Potter and the Deathly Hallows Part 2 (July 15)
Story continues below advertisement
After seven books and seven movies, Voldemort's death is finally upon us…on the big screen.  And with that, the entire series will be ending as well. I've been an avid fan of every single movie and because I never read the books, the movies were always a fresh experience for me. I'm ready to close the chapter and see the epic finish to my childhood.
2)    Captain America: The First Avenger (July 22)
"Avengers, assemble!" It just does not sound right coming from any other superhero than Captain America himself. After waiting for so long, the Captain finally gets his spotlight: the first avenger in all his glory, the epitome of American beliefs, will be beating Nazis to a pulp with his bare hands. Justice and beating Nazis? Count me in.
3)    X-Men: First Class (June 3)
The X-Men universe has been around for several decades in an innumerable amount of comics, television shows and movies. Twentieth Century Fox has finally decided to go back to the roots of the characters—heroes and villains alike. Who wouldn't want to see where things went wrong between Xavier and Magneto: a common goal but two different approaches? I'm excited. 
4)    Don't Be Afraid of the Dark (August 12)
This movie's trailer is one of the few that have ever actually scared me. On the flipside, it is a remake of a movie.  But it is directed by Guillermo del Toro… therefore it's automatically worth a watch.
5)    Kung Fu Panda 2 (May 26)
Po, the lovable oaf-of-a-panda, is making a return in this sequel. The first one was hysterically funny and had such a captivating storyline. Kung Fu Panda 2 shows great promise and to those who have watched KFP1… you get to see Po's biological parents in KFP2. Do you really need more reason to see this? 'Cause I sure don't.
And now the five least anticipated movies of the summer: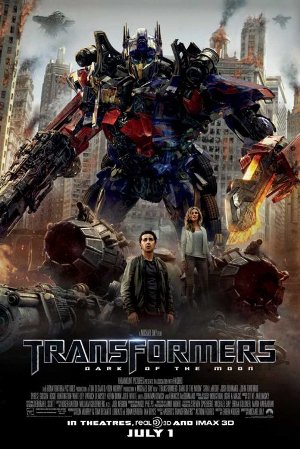 1)    Transformers: Dark of the Moon (July 1)
After Transformers: Revenge of the Fallen dropped the ball horribly in the summer of 2009, I thought Michael Bay would have thrown in the towel. Now, he promises a revamp of the series; I personally don't believe the guy. The predecessor was infuriating and this whole franchise needs to be sent to the scrapyard, all pun intended.
2)    Cowboy & Aliens (July 29)
Have you seen this trailer? Can you tell me what's going on? 'Cause I have no idea. And I'm pretty sure that's exactly how the movie will go, too.
3)    30 Minutes or Less (August 12)
As much as I love Jesse Eisenberg, especially since Zombieland tops my list of favorites, I would spend less than 30 minutes on this movie. It's just not impressive at all.
4)    Final Destination 5 (August 12)
Considering how this movie comes out towards the end of the summer, I'd hate for this movie to be my final destination. The series never scared me and the concept behind it lost its luster eons ago. Give it a rest, New Line Cinema.
5)    Green Lantern (June 17)
This is a terrible birthday present, Warner Brothers! Take one of my favorite actors of all time (Ryan Reynolds) and put him in a goofy, completely unrealistic CGI costume and you have the Green Lantern. I'm not so much excited about this movie because Green Lantern isn't much a hero as they are a corporation; any one Green Lantern can do the same things another one can. No identity whatsoever.