KHS-TV News/SRL Carries Out Special April Fool's Day Prank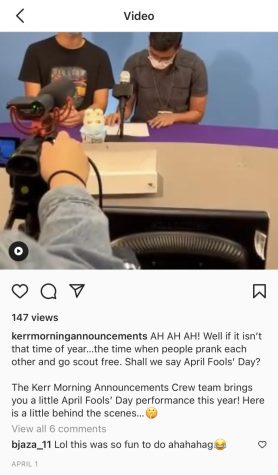 This past week, KHS-TV News/SRL executed another successful weekly broadcast. Along with students writing the script and monitoring the Friday Factoid, members also devised a special treat for viewers near the end of their April 1st broadcast. With the weekly ritual falling on April Fool's Day, they decided to do the traditional "kidnapping" prank on their anchors as viewers watched with contentment while they performed the stunt live. The crew also uploaded a short behind-the-scenes bloopers video to their Instagram of the encounter, so make sure to check that out on their official page (@kerrmorningannouncements)!
Other than announcements, the members have just been rather laid back on features and special segments as most members have decided to focus their attention on their studies and other activities. However, don't be fooled, KHS-TV News/SRL is planning to put out some more content before the year ends!