Nobody was expecting the pandemic to hit as hard as it did. Events started slowly trickling from many to none, the school closed, and in March 2020, we were forced into quarantine to cease the spread of the deadly virus, leaving many of us to combat this year's hardships in isolation.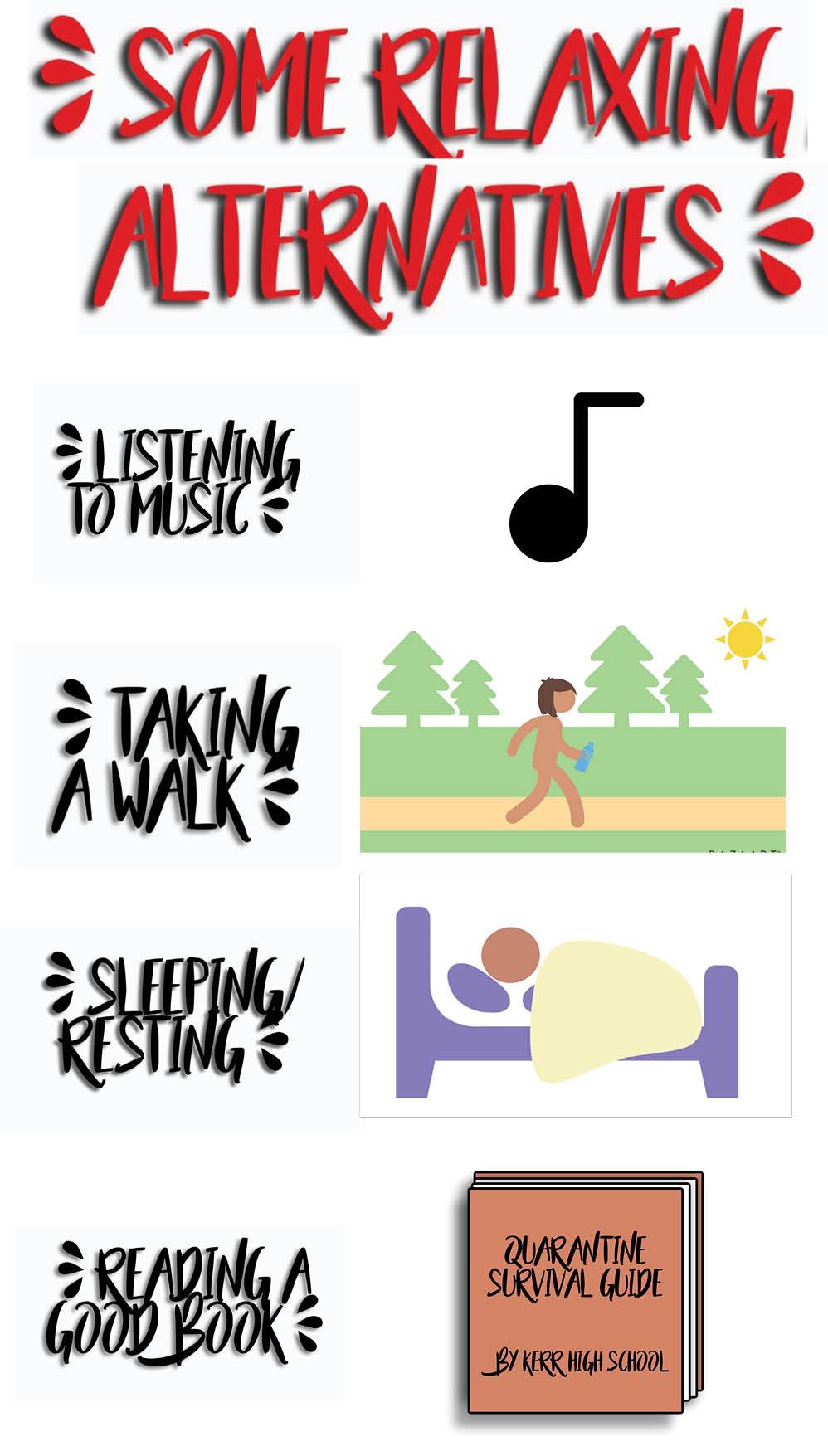 Many students have had a multitude of battles to tackle these past eight months. including coping with depression, a parent's job loss, and having to take care of younger family members while in quarantine. And when school started again, the change did little to help many people's mental health.
Working from home, some have a hard time learning and trying to keep up in a virtual environment. Others suffer from lack of motivation or new responsibilities that have popped up during the last few months.
With all this stress piling up, it's important to find some de-stressors and balance out work with relaxation so you can recharge. If you don't have energy to work or stay on top of things, then there's a much higher chance that you'll be unable to properly cope with your current situation, which may result in inflation of stress.
Story continues below advertisement
"When you first wake up, you're all hyped up, you know?" senior Danny Le said. "You're ready to go, but as the day goes on, you get tired, move slower, and eventually you get to a point where you're basically not doing any work at all because you're just really tired. Your brain's not working. So when you have freetime, it's important to give yourself a break. Not all the time, but just every now and then. It helps and it gives you that time to refuel. "
[Online school] is like sprinting, you know? You can only sprint for so long until you get tired. And once you do, you have to take a break, so that you get back up and keep sprinting."
When looking for a destressor, it's important that you choose activities that are both efficient in helping take care of the stress you're experiencing while also being a healthy ritual. You want to develop a habit of turning to activities that you can use as often as needed with no detrimental cost.
Music is a great outlet for de-stressing and can stem into many just as healthy activities like dancing, songwriting, singing, and playing an instrument. Some of the artists recommended by students were K-Pop groups like BTS, NCT, and Seventeen, soloists that have risen to prominence over the past decade like Ariana Grande, Harry Styles, and The Weeknd, and upcoming artists such as Clairo, Alec Benjamin, and Frank Ocean.
"It's nice to change things up," says sophomore Maria Adenekan. "Quarantine had given me a chance to explore different genres of music that I honestly didn't even know I'd enjoy listening to. And since I can't always go hang out with my friends right now, it's important that I have something else to do that'll keep me grounded."
For TV shows, many students turn to childhood comfort shows like "Spongebob," "Adventure Time," and "Regular Show." And speaking of nostalgia, Netflix recently added 2000's kids classics to its catalog. "Avatar The Last Airbender" and sequel "The Legend of Korra" have had big commercial success both in America and internationally.
There was also a soft spot for two popular American comedies: "The Office" is a 2000s comedy mockumentary that centers around the daily lives of office employees at the Dunder Mifflin Paper Company. "Friends" follows a band of six close friends who share an apartment complex in New York.
And last, but definitely not least, the recommendations for anime and foreign series like Korean dramas were at an all time high. Some of the most popular are animes like "My Hero Academia," "One Piece," "Haikyuu" and K-Dramas such as "Crash Landing On You" and "It's Okay Not To Be Okay."
"K-Dramas are so addictive," senior Stephanie Negrete said. "They have really great plots and always leave you on the edge of your chair. The characters are also played so amazingly and it's always really heartwarming to see how they form a bond with one another and how it plays into the series. I really enjoy them."