Collections galore!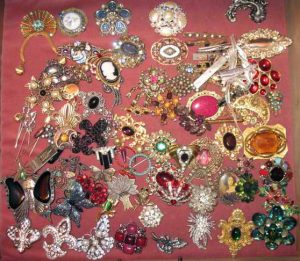 A pile of knick-knacks sits on a desk, another in an office and others at home. They include anything from paper to teddy bears to coffee cups. One thing they have in common? They're all pink.
"I started collecting anything pink after my breast cancer treatment," English teacher Kathleen Harrison said. Five years ago, Harrison was diagnosed and began treatment for the disease.
When Harrison found out about her cancer, she was pretty calm.
"I said, 'okay, what do we do?' The doctor said I had a 95% survival rate…but the only time I got scared was when I thought it had gone to the lymph nodes."
After her surgery, she did lots of research on the types of treatments and talked to her doctor.
"After chemotherapy, it was weird that these lethal, poisonous drugs were flowing through my veins," she said. "You just hope that it works."
At first, Harrison didn't want anything pink, the color used to represent breast cancer awareness; but after the cancer went into remission, she suddenly changed her mind.
"I guess I just wanted to celebrate pink," she said.
Now Harrison collects anything that is pink, from teddy bears to water bottles.
"My favorite item of all the ones I have is a pink purse…I'm thinking my next purchase is a pink coffee pot."
A family tradition of collecting antiques started by English teacher Sarah Urban's grandmother led her to begin collecting antique brooches.
"My mom's side has the English tradition of collecting and you end up gaining appreciation for the collections," she said. "I started collecting in high school…and [now] I probably have somewhere between 60 and 75 brooches."
Another favorite item for Urban to collect is anything featuring fleur de lis, a kind of stylized lily. In French history, the leaves represent the medieval social classes and remain an enduring symbol of France today.
"I love the symbolism of the three leaves," Urban said.
As for the 109 pairs of shoes she owns, Urban likes to collect them because her shoe size does not change and she is always able to wear them, unlike clothes, where her size can change.
"I like retro pumps (stilettos) because some of them belonged to my grandmother, so they're vintage," she said.
Sophomore Travis G. also has family influence in his collection of geodes, which are hollow stones in which crystals have formed. Travis was inspired by his uncle, who as a Marine traveled the world and collected geodes along the way.
"I first went to a geode cavern," Travis said. "I was always interested in geology and I thought it was an interesting thing to collect."
Travis thinks that the most important thing about having a collection is the reminiscence of it.
"Collecting means remembering; more so how you remember getting something than its physical beauty."
A love of Egyptian history and architecture led sophomore Keiren V. to begin collecting things that represent Egyptian history; because she feels that it helps in exploring Egyptian culture and its contributions to the modern world.
"I love ancient Egyptian history," she said. "I was seven when I started [collecting]…I was influenced by my mom."
Keiren collects things inspired by ancient Egyptian history, such as jewelry, papyrus scrolls, costumes, pyramids, obelisks, and statues of Egyptian gods. She also has a block with paintings of the Egyptian gods Isis and Osiris on it.
Keiren first became interested in Egyptian culture when her sister took her to see The Prince of Egypt when she was five years old.
"The architecture and Egyptian styles were so beautiful," she said. "I wanted some part of it."
Whatever the inspiration behind a collection, Harrison warns not to turn a sentimental collection into an obsession.
"[Collecting] means I'm crazy about pink and I need to stop," she said. "Pink means the borderline of cuckoo."