A punny Linfestation: Are Jeremy Lin's successes exaggerated?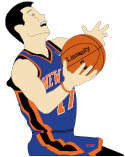 Only five seconds left on the clock with the crowd on the edge of their seats. The score is 87 to 87 between the New York Knicks and the Toronto Raptors. With sweat trickling down his face, the Knicks' point guard, Jeremy Lin, analyzes the tight defense of his defender Jose Calderon. Unable to drive to the basket due to gap between him and Calderon, the former Harvard player makes a smart choice and shoots a pull-up three-pointer. The amped up Toronto crowd was unable to faze Jeremy Lin as the ball swished through the net with only half a second remaining.
This end-of-the-game performance has proven to me that Lin is an All-Star player. I'm going out on a limb here and saying Lin will be the Most Valuable Player this year. He has proven game after game that what he produces every match is not luck, but effort.
When Lin graduated from Harvard, he opted for the 2010 NBA Draft. However, none of the teams knew of his potential so he fell through the cracks and went undrafted. After spending some time in the free agency, Lin was signed into his favorite team, the Golden State Warriors.
After the season ended, Lin was spent most of his time thrown around from various teams. The Houston Rockets  picked him up; however, like the other teams that picked Lin up, they decided to waive this Linvaluble player.  After being signed and waved countless times, the Knicks finally picked him up and set him on the bench.
On February 4, the Knicks desperately needed a leader on the court, someone who could direct the floor's movement. The New Jersey Nets were winning 30 to 20 after the first quarter. Since the Knicks' starter, Carmelo Anthony, was missing most of his field goals, the team was in a slump. Their coach, Mike D'Antoni, decided to substitute Jeremy Lin in as their point guard. Although he was only a bench warmer, his clever ball handling techniques and his ability to drive to the basket cleared up the ten point deficit, and the Knicks scored at least 24 points each quarter. Lin stepped onto the court as an unknown bench warmer but stepped off a super star with the crowd ecstatically chanting his name. Thus began this Lincredible Linderella story.
On the next matchup against the Utah Jazz, Anthony and Amar'e Stoudemire, were sidelined due to an injury and family issues respectively. Due to the team's absence of two starters, coach D'Antoni had Lin become a starter for the first time in his career. His plays created and widened the gap between the two teams. The game ended with Lin scoring 28 points and dishing out 8 assists. His potential is shown to be Linexhaustible for someone who is only playing their second year in the NBA.
Lin maintained his run and has been on fire against All-Star players like Deron Williams, former Rookies of the Year, John Wall and Tyreke Evans. Lin even managed to outscore Kobe Bryant, the five-time NBA Champion, with 38 points. The young floor general was even a great contribution in the match against the defending NBA champion, the Dallas Mavericks. Lin scored 28 points, gave out a career-high 14 assists, and even stole the ball from the opposition 5 times. After the game, the Mavericks' veterans, Jason Kidd and Jason Terry complimented Lin's style of play. The Mavericks six-game winning streak could not stack up against Linsanity.
Many people are saying that Jeremy's performance is overrated and that his successes will fade away soon. However, I believe that Lin is very talented and will keep contributing to the Knicks' successes. His performances are Lindescribable. He has outscored guys who average about 30 points per game. He's flexible and can score in numberous ways while being a team player that gets all his teammates involved. Since starting, he has hit many game winning shots and led his team on a 10 out of 13 Linning streak. He even broke the NBA record for most points scored in his first five NBA starting games. Best of all, his name is very punny.
Sure he has a few kinks to work out such as his number of turnovers, mistakes, and other performance flaws. But keep in mind that he is adjusting to his new life. Jumping straight off the bench to play alongside All-Star players and possibly future Hall of Famers, he has to prepare himself both mentally and physically. Not to mention that he is receiving a lot of attention from the media, so he has to manage all the publicity. Although he is young and inexperienced, you have to note that he is only 23 years old, meaning he has a lot of time to learn. If he is already producing these numbers now, think about what he can do five years from now. Jeremy is a  Linteresting player with so much potential, I think he will continue to be successful and become an amazing basketball player.
Linsanity is definitely real, and it will last as long as Lin chooses for it to last.