Passport to Paris: Urban explores new lifestyle in France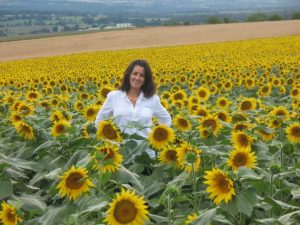 Sarah Urban walked into the little shop called the Aux Chimeras on a street near Notre Dame in Paris. She and a friend were on a mission to find out if the store was the very same one where her grandfather had bought her grandmother a pair of earrings almost 70 years ago, during World War II.  The box Urban used to store the earrings and the little shop had the same name. To her surprise and pleasure, she learned that the jewelry store had been handed down from father to son, virtually unchanged, through the decades.
"I showed the owner the box and he explained that the counter my hand was on, and the shelves behind him, and the cash register in front of me were the same as what my grandfather saw and touched then," she said.
The touch of "historical awesomeness," as Urban described it, was part of a summer trip to France that culminated a year of change for the English teacher. After finding many things in her life with which she was disatisfied, she vowed to take action, and the trip into her family's past was just part of the journey she is on to find happiness.
"I really do believe in 'work hard and play hard,' but all I had done for years was work hard," she said. "I take very seriously that I'm an Alief graduate helping to produce more Alief graduates. I want to be proud of Alief and I want Alief to be proud of me."
Urban had a mindset comparable to that of her students at Kerr – that is, to push herself in order to exceed expectations, go beyond her limits, and just be the very best she can.
"I know a lot of Kerr kids put similar pressure on themselves because they're wired to over-achieve, too, in the quest for respect and success," she said.
However, when it comes to the pressure to simply do more than the minimal at school, there is less time spent with family and friends outside of Kerr and no time to relax.
"For nearly a decade, I gave nearly all I had to teaching at the expense of my personal life," Urban said. "I had to work through every summer at second and third jobs, put my daughter through college. It's easy to understand that my good intentions were going bad and I was a hypocrite: I was working myself ugly, old, bitter, and lonely."
The stress took a toll on her relationships, and last fall "My marriage fell apart. And worse, we were stuck in the house together until the house sold, living in separate parts, not speaking, no guests or family over. I was a ghost in my own home for over nine months."
It was at that point where even school was no longer a safe haven for Urban.
"I needed school to be my rock, and it wasn't. And the icing on the cake of disgust: I was the heaviest I'd ever been in my life. I hadn't had a vacation of any kind in years. I never got any sleep. I hated my clothes. My teeth hurt. I was profoundly sad. My life sucked. I decided that if I didn't start valuing my own life – the only little life I get (that I know of) – then nobody else would either. Enough was enough."
It was obvious to Urban that there needed to be a change – physically, mentally, and emotionally. She decided to change her pace in life and pushed all of her pent up negative energy in another direction: one of self change and deserved happiness. First? The physical aspect.
"So, last March, I started power walking on the bayou," Urban said. "My walking pretty quickly bored me because only one song – a techno remix of Britney Spear's 'Circus' – on my mp3 player exactly matched my walking pace…So, 378 repeats of Brit-Brit later, I ditched walking and pulled out my bicycle – my amazing aqua bike with sunflowers, a ring-a-ling bell, yellow rims, and a wicker basket – and I started riding through Terry Hershey park and eventually through George Bush park to Fry Road and then back again– 38 miles start to finish."
When it comes to getting back in shape and becoming healthier, not only is a good amount of exercise needed, but change in other habits as well.
"I've lost well over 50 pounds, but  they haven't come off just by biking," Urban said. "I committed to a decent bedtime even if it meant something important didn't get finished. No more all nighters since lack of sleep has now been definitely linked to stress, weight problems, and even dementia. And I hate to cook, so I only buy food associated with verbs like slice — tomatoes, avocados, smoked salmon — and pluck — grapes — and peel  — bananas, oranges — maybe on occasion toss — salad.
"And I'm pleased to report that I divorced Coke Zero and married water." Urban laughs. "We're very happy together."
Next up? The mental aspect.
"The combination of erasing ten years of my life from a house I loved and raised my daughter in, researching for hundreds of hours where I was going to move, and wondering what my new single life would be like was loathsome, exhausting, and scary," Urban commented. "But…I found a gem of an apartment in my same zip code right on the bayou overlooking so many trees and a private lake teeming with turtles and ducks that my family dubbed my new digs: Sarah's Treehouse. Tranquil, private, pretty as can be. I now feel more at home in my treehouse in just a few months than I did for years in my house."
The next step was a get-away.
"A friend of mine from way back to Olle Middle School days was disgusted to learn that I hadn't had a vacation in over seven years." Urban said.
He suggested that she visit him in Europe.
"Cutting through all the objections I raised about what a ridiculous, impractical, only-other-people-do-that, are-you-freaking-kidding idea that was, I was left with no good reason not to go," Urban stated. "Suddenly, the idea of a grand adventure overseas seemed both interesting and important."
Urban had an extravagant vacation devoted to adoring France, with four days spent in Paris and seven days in the French countryside.
"Paris was a-m-a-z-i-n-g," she said. "Not only do art and history and culture abound inside every building, the very buildings themselves are the art and history and culture. I wondered how it was that people could just walk by this church or that shop and not just gawk at the architecture for hours and wonder what stories those shop floors had to tell from hundreds of years of wear."
However, it wasn't just the structure of France itself that wowed Urban. It was the people, the food, and the history linked to a charm bracelet that belonged to Urban's own grandmother.
"We watched women old in body but young at heart do the Charleston on the bakes of the Seine in the middle of the afternoon," she said. "A group of students who dropped bags and played arias right on the sidewalk of the Champs-Elysées so beautifully we cried. A beautiful woman dancing flamenco professionally all by herself at two in the morning with her friend playing guitar just because she wanted to."
Though the vacation was much needed and she had the time of her life, it was nearing school, and Urban had to return to make preparations for her next group of AP English students, so the trip in France came to a reluctant ending.
"I was so sad to go, that I nearly missed my flight – the crew was calling my name and waiting for me," Urban remembers. "As the flight attendant helped me get settled, she was curious why I was late because she was worried. I wanted to tell her it was someone else's fault – some technical glitch – lines that were too long. But, I looked up at her, started to cry, and said, 'I just didn't want to say goodbye.'"
In the past year, Urban has defeated the stress that was had built up inside her, lost the weight and became fit and healthy, reorganized her life into a new home, and took a vacation to a beautiful place. And learned — guess what? She's human.
"All in all," she said, "I turned some pretty profound negatives into positives by knowing when it was time to stand up for myself, embracing change with a carpe diem attitude, and listening and reaching out to friends."