Cupid's choice for Valentine's date: City Centre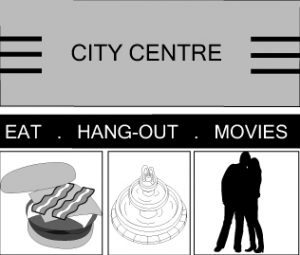 After the demolition of Houston's old Town and Country Mall, a newly rebuilt outdoor complex took its place. Prominently located at 803 Town and Country Blvd., City Centre Mall overshadows its predecessor with many new attractive features, including a majestic water fountain located squarely in the middle of the  plaza, a spacious browsing area, and a circle of popular stores such as J.Crew and Urban Outfitters. City Centre also serves as a magnificent place to take your significant other on a date, especially since Valentine's is approaching.
The atmosphere will immediately place anyone in a state of relaxation and is guaranteed to set the mood for anyone, regardless of how terrible  his day was. For couples who fancy watching movies and dining out, Studio Movie Grille makes a perfect place to start off your date.  In addition to the latest releases, Studio Movie Grille has one interesting twist: It offers movie-goers the ability to order food and have it delivered they watch the movie. I had the Coconut Chicken Tenders( $10.95) and the Brownie Sundae( 6.25). Those who plan what they want to order ahead of time can get a full copy of the official menu from the following link: http://www.studiomoviegrill.com/images/menus/OnlineMenuCombined_TX.pdf. 
If movie-watching isn't your cup of tea, then trying cruising around City Centre after the sun sets. The look of this outdoors plaza completely changes during nighttime as a series of vibrant lights fills the air. For those who enjoy long walks with a beautiful scenery, be sure to check out City Centre's park area with its alluring water fountain.
A perfect date is never complete without good food, and Flora and Muse provides just that and more. Wrapped in the scent of delicious pastries, fresh flowers, aromatic coffee and tea, and scrumptious food, diners at Flora and Muse find an ideal place for an enchanting experience, minus the candlelight.
Whether it's watching a movie, lively lights, or romantic dining, City Centre is casual, light, and bound to keep both the youthful and more mature crowd entertained. It will satisfy both the "smart-budgeting date" and the "I-just-got-my-pay-check" date. Couples are guaranteed contentment on every level and for any occasion that they plan at City Centre, whether it's casual or close to the heart.