New district policy replaces minimum 50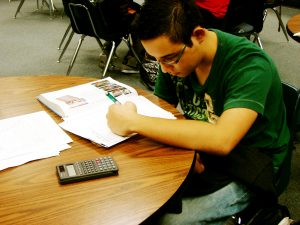 A new "truth in grading" law means that students with extremely low term averages will now be seeing those grades on their report cards—but students will have chances to bring up those grades before they become permanent.
Alief ISD has abolished the "minimum 50," a policy in which all term grades below 50 were entered in the grade book as 50 percent. SB 2033, passed in 2009, requires school districts to report actual grades for assignments. Alief at first joined with 11 other districts to sue the state to keep the policy, arguing that a 50 gave students the chance to salvage credit by making a 90 in the next term; but a Travis County court ruled against the districts during the summer, and Alief chose to change its policies rather than continue the lawsuit.
A new district-wide grading policy, requiring parent phone calls, a one week limit on retesting, and mandatory tutorials on failing major grades, is now replacing the minimum 50 policy.
Under the new policy, students who receive 69 or below on a major grade will be required to retake the assignment within one week. The students can make a maximum of 75 on the retake to replace the previous score.
Teachers must also notify parents when a student receives a 69 or below on a major grade through phone calls, emails, or a form taken home to be signed.
Department chairs received notice of these coming changes in a meeting early in the school year. To some departments, the new policies will have little impact.
"Our retesting policy is pretty flexible," Science department chair Clarissa Caro said. "Nothing's going to change."
For other centers, contacting parents over failing grades may be an issue.
"We want to figure out the best way to handle that so we're consistent, and we are able to reach the parent and [that] it makes a difference," Math department chair Karen Maciekowich said. "To me, it's not a whole lot different except for the contacting parents after each test. Most of our students do have [Internet] access at home, so the parents can check it [grades] at any time they want to."
Many options exist school-wide for students who need to recover class credit. Students can retake terms they failed through online courses.
"Say you just bombed English IA, and you did okay in English IB," Assistant principal Kimberly Mathis said. "We'll have you take English IA and grade average."
More options to aid students may be coming. The math center is considering using the Carnegie Learning program, which is math software that can be accessed online.
"We have trouble with students passing geometry, our weak area," Maciekowich said. "We're considering at least using it for those who have to repeat the course… We tried it out in summer school and it worked very well for geometry."
The Carnegie program would help students work through problems while making sure that they master important concepts before moving on to other skills.
"What seems to happen with a lot of geometry students who fail is that they don't really know their Algebra I very well," Maciekowich said. "They didn't learn to solve equations and set-up equations and things like that, and this [software] forces them to actually learn that first."
Alief Area Superintendent Maggie Cuellar said the motivation behind the new grading policy is mastery.
"The objective is for students to achieve mastery of the curriculum," Cuellar said. "When a student does not demonstrate proficiency on the original assessment, it significantly impacts a student's grade or competency. Students who do not meet proficiency would have the opportunity for re-assessment to demonstrate proficiency."
Cuellar said the policy would benefit students and teachers overall.
"This will allow students multiple opportunities to display their true level of proficiency in regard to the content," she said. "This gives teachers the flexibility to differentiate their instruction in a variety of ways to ensure that every student has achieved the desired level of mastery."
The one-week limit on retesting could be flexible, Principal Gregory Freeman said.
"For a failed test or a failed major assignment, as long as they [the students] are given the opportunity to retake that test and improve their grade, that's fine, whether it's within a week or whether it's within the nine weeks."
Although some Kerr students have passed classes under the older policy, others believe the change won't affect them.
Junior John Z. said students deserve the grade they originally make.
"I feel that people, on the report card, who get below a 50 really deserve it because they didn't do their work," John said. "If they [the student] got below a 50 the first term, it's highly likely they won't make a 90 the second term."