The Library has four new books available for checking out: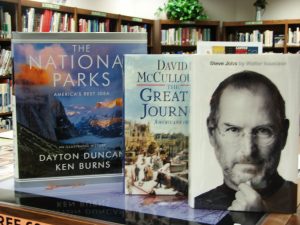 The National Parks by Ken Burns: this is a story that follows the beginning of the United States national parks and catalogs the different national parks by the people who created them.
The Greater Journey by David McCullough: in this book, McCullough tells the story of several ambitious Americans who travel across the Atlantic to Paris between 1830 and 1900 in hopes to fulfill their dreams.
Every Day a Friday by Joel Osteen: Pastor Joel Osteen writes about his personal experience as well as others to convey the message that every day can have as much happiness as a Friday.
Story continues below advertisement
Steve Jobs by Walter Isaacson: Isaacson's biography of Steve Jobs unveils the mysteries of the life of one of the greatest inventors of our generation through hundreds of interviews over the course of two years.