Harvard representative pays unprecedented visit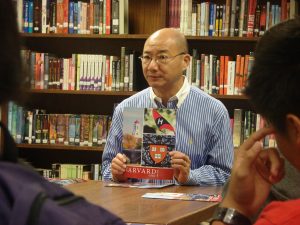 At 8:30am sharp the meeting convened in the library. It wasn't a huge assembly: a score of students seated around a long table; one counselors' secretary clutching a legal pad; one ecstatic librarian. But everyone's attention was riveted on the man at the head of the table. He wore glasses, dressed in an unassuming blue-striped shirt and khakis, and spoke in a quiet voice. But the bright brochures he handed out read "Harvard University," and for the students, that cancelled out everything else.
The man's name was Douglas Sung and he was the first Harvard representative ever to recruit at Kerr.
He visited the school on Friday, October 28. Counselors' secretary Diane Barrett organized the meeting, and about twenty students came. Not all of them came because they had Harvard dreams; some came because of curiosity, others to get an insider's look at the Ivy League.
Junior Tiffany T. went because of an old dream.
"I wanted to go to Harvard in freshman year," she said, "but it's kind of unrealistic."
Sophomore Johnathon T. went because of curiosity.
"I am pretty sure I have no chance of being accepted into Harvard," he said. "So I pretty much went because I wanted to hear what he had to say. I thought it would be interesting."
Junior Flaviu D. went to learn more about the process of applying to college.
"I knew what I could learn was the universality of the college application," he said. "By going to the most demanding school for advice, I would be able to apply what I learned with much lower colleges."
The unprecedented visit came about after one senior tentatively mentioned Harvard to the counselors' secretary.
"I emailed the seniors and asked them if they wanted somebody I hadn't asked," Barrett explained. One senior requested Harvard. Barrett then worked to arrange the meeting through an organization called the Harvard Club.
"It was made up of Harvard alum' who live in the area, and they interview prospective students," she said. "I went on the website and there was and email [link] that said, 'Contact Us.' I emailed and I heard from somebody, a contact person in the Harvard Club, and then I told her what we wanted and what date and time. She found a person who could talk to our students about the admission process and financial aid."
That person was Sung.
He chose to come "because of the background of the school," he said. "I think this is a unique high school with a strong emphasis on liberal arts and education."
Sung believes that Kerr's nontraditional methods give its students an edge.
"The school emphasizes…responsibility and maturity," he said. "These are what we look for in a strong Harvard candidate."
He also hopes to return to Kerr in coming years.
"I would like to build a pipeline of applicants from Alief Kerr High School," he said.
It is a hope he shares with Barrett, at least, who was pleased with the results of the meeting despite initial trepidation.
"I'm the original Nervous Nelly," she said. "Every time I set up a college visit I sweat bullets that nobody's gonna come. That's why I'm so glad to see everybody.
"What this guy did was so beyond going to Harvard. He had such an impact on all of us. He was an inspiration. I just finished emailing him and I said, 'You left us with hope and a new way of looking at things.'
"I felt like I had met Jonathan Livingston Seagull in person."