Culture Shapers cultivates artistry through competition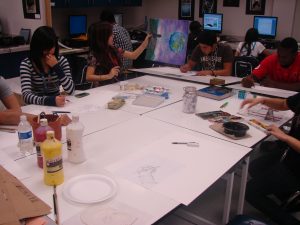 Senior Jacqueline N. bends over her work, carefully concentrating on every detail of her drawing as she puts all her skills and effort into the piece she will be entering to Culture Shapers, an art competition that allows students to challenge themselves by competing against students throughout the Houston area.
"I really want to know where my portfolio stands; I really want to know if I'll be able to get a high score, a low score, depending on how I do well against all the other people," she said.
Culture Shapers began when a group of businessmen and women learned about the tragic shooting at Columbine High School, which claimed the lives of 12 students and one teacher while injuring 23 others, and decided that they wanted to make a difference in the lives of teenagers.
The art competition is a rare opportunity for students to share their love of art with others and earn money that can prepare artists for their future.
Culture Shapers includes six different categories: Drawing, Painting, Electronic Media, Photography, Mixed Media and Sculpture. It also includes a Young Voices singing competition. The first place contestant in each category receives a grand prize of $5,000, and other contestants receive money prizes according to their place.
Last month, Yaeji L. of Manvel High School won the $5,000 grand prize for the Painting category, while Yichien L. of Stratford High School won first place for the Mixed Media Category.
Among the prizes there is a Teacher of the Year award, Administrator of the Year award, and a Heart in Art award. Art teacher Lisa Canorro won the Teacher of the Year award in 2008. The Heart in Art award is given to the students whom the judges think demonstrated great character and showed true hard work.
"They also give out a Heart in Art award for the student that does not necessarily do wonderful competition winning pieces, but they really try very hard in art," Canorro said.
This competition is valuable to some of the students because it gives them the opportunity to earn money they can use for their college savings.
"I think it's important to the students…" Canorro said. "That money helps them even if it's one class in college, and it also helps Kerr; Kerr is a recognized school in art, not just in academics, so [Culture Shapers] helps us be recognized in the arts."
To Jacqueline, participating in Culture Shapers is a way to test herself against other competitors.
"It's an accomplishment that we use in order to gain recognition in the art department and we also use it as a way to determine the level we're at, that's how it is to me," she said. "It's like a competition to see how my skills are, how my skills have improved."
The competition takes place at the Culture Shapers headquarters on 10225 Woodedge Dr. in Houston during the month of October for Mixed Media and Painting, in January for Electronic Media and Photography, and in April for Drawing and Sculpture. The last few weeks before each competition are intense for art students as they refine their work prior to the deadline.
Culture Shapers is open to all students in Houston, including to those who are not currently taking an art class. Students must create an original work of art and pay a $20 entry fee. This will allow them to participate and will provide them with a T-shirt, along with the chance to win $5,000. Students entering the competition are allowed to enter more than one category.
Each category will have an awards ceremony after the judging for that event has been completed. The awards ceremony will be on January 29 for Electronic Media and Photography and April 1 for Drawing and Sculpture.