High turnout fuels high hopes for Students for Humanity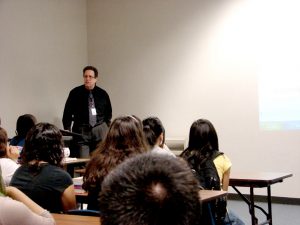 Students for Humanity held its first two meetings on September 8 and 12. Hosted by sponsor Steve Levine and the Students for Humanity officers, the introductory meetings had a much higher turnout than expected.
"It really surpassed my expectations," said co-president Anh L., a sophomore. "It really encouraged me to…find more ways for people to help."
Levine hopes that the increase in interest will enable the club to continue supporting its humanitarian causes, particularly Liberty in North Korea (LiNK), which will be coming to Kerr on October 10.
In addition, Levine stated that Students for Humanity will host a lock-in on October 21 "in order to raise money for our charitable causes."
The club's next meeting will be on Tuesday, September 27 at 2:30 P.M. in the Social Studies Center. Members will submit and select designs for this year's club T-shirts and work on the club's two upcoming events.
Levine stresses that attendance is not strict and that new members can join at any time.
"Everyone is always welcome," he said.