Two named National Merit Semifinalists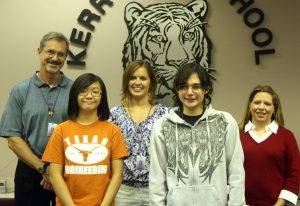 Seniors Joshua Cadungog and Emily Tat have been named as semifinalists by the National Merit Scholarship Corporation.
"Basically, as a junior, it means you had one of the highest PSAT scores in the nation," Counselor Sarah Tones said. "It's a big deal. We haven't had anyone from our school qualify for the national merit scholarships in a long while."
The PSAT tests, which are practice tests for the SAT, are held into importance because of the National Merit Scholarship.
"We stress the importance of the PSATs, especially during your junior year because of the merit scholarship," Tones said. "With the merit, you can earn a lot of money towards college, and in some cases, even earn a full ride to the college of your choice."
Obtaining a national merit scholarship can be an advantage a student can use when applying to colleges nationwide.
"It's really exciting," Tat said.
"My parents are really proud of me, but they still want me to stay in Texas for college," she laughed.