Competitions Starting Up For MAT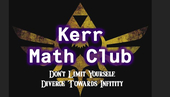 Mu Alpha Theta is holding a meeting for members during advisory on Thursday,  January 26. This is to inform members of details regarding the online competitions held by the University of Houston on Saturday, January 28, and to remind them about the point and tutoring hours required for the honor cords. The Texas Math League competitions will be competing every month starting next week.
Math Club will have a general meeting after school on Tuesday, January 30, with its officers meeting after school on the previous day. Further meetings for both Math Club and Mu Alpha Theta have already been planned. The math mentoring program is set to be reimplemented soon.