Math Club Prepares For Meetings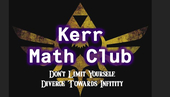 The officers of Math Club will be meeting after school on Monday, January 23 to plan for the next general meeting. Members can expect the next meeting to be on Tuesday, January 24.
The members of Math Club and Mu Alpha Theta will be informed of and updated on math competitions taking place in the next month. This includes the virtual competitions held by the University of Houston on January 28 and the Texas Math League in February.