MAT Prepares for Competitions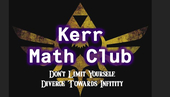 Mu Alpha Theta members can expect an advisory meeting on Thursday, January 12. This meeting will be in preparation for the upcoming practice UIL on Saturday, January 14. On the same day, signups for the University of Houston competitions held virtually on Saturday, January 28 open.
There are no plans for the general members this week. The date for the next Math Club general meeting has not yet been planned.