Chambers named finalist for new Alief superintendent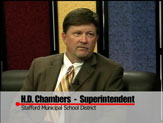 The Alief School Board named H.D. Chambers as the lone finalist for  superintendent for A.I.S.D.     
The board made the decision on February 15 after a three-month interview and selection process.    
Chambers has been  superintendent for Stafford Municipal School District since the 2006-2007 school year.    
"I consider it an honor for the Alief ISD Board of Trustees to give me the responsibility of being the superintendent of schools for Alief ISD," Chambers said. "I genuinely believe that Alief ISD's core values and beliefs for student and staff growth are consistent with mine, and I am excited to be part of a team and community that believes in setting high standards and expectations for everything we will do.  
"There are going to be challenges in public education we all must face, but I am absolutely convinced that Alief ISD has the teaching and support staff to meet these challenges and continue educating every student at the highest level possible. I am happy to be a part of a district that possesses the qualities of Alief ISD."  
H.D. Chambers. From the Stafford Municipal School District website, http://www.stafford.msd.esc4.net/
Chambers was a teacher and coach in Aldine ISD for six years; he then served in several administrative posts in Cypress-Fairbanks ISD for 14 years before taking the superintendent's post in Stafford. 
The Alief ISD board is expected to approve a contract with Chambers on March 8. 
He is set to begin working in April.
With reports from Alief ISD.