French Club to sell the Mardi Gras way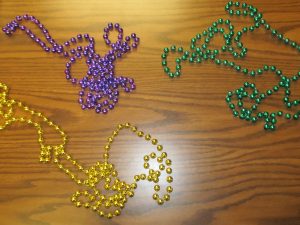 Mardi Gras is in March this year, with Fat Tuesday, the last day of the celebration, falling on March 8.  
But starting February 21, French Club will be celebrating the festive holiday early by selling Mardi Gras beads.  
"Orginally, Mr. Schowalter said French Club should have a Mardi Gras party, but the idea soon changed to a bead sale." French Club member Destiny J. said.  
Along  with the bead sale, the French Club will also host a raffle for a large bead necklace, which will only last for  two weeks. Tickets for the raffle will be sold during all lunches for 50¢. Large beads will be sold for $2, Medium beads will be sold for $1, and small beads will be sold for 75¢.