Kerr Receives Third Blue Ribbon Award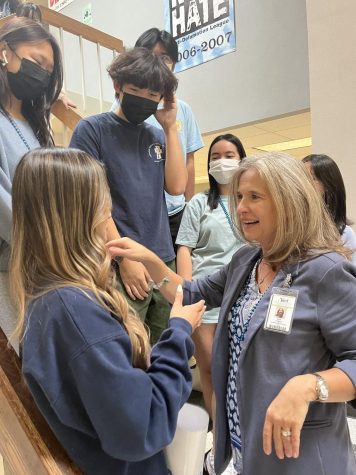 Winning its first National Blue Ribbon Award in 2010, Kerr has snagged yet another one for the third eligible year in a row. Nominated with two other high schools in the Exemplary High-Performance category in Texas, Kerr remains one of the most persistent and consistent schools on the list to date.
Founded in 1982 by the United States Department of Education, the National Blue Ribbon Award Program has been nominating schools nation wide for their exemplar performance and immaculate growth over 39 years. Every year, the organization selects a limited number of schools to highlight the nation's academic accomplishments. This year, 26 public and private Texas schools were nominated for the award and among them sits Kerr.
Though over 9,000 schools have earned the National Blue Ribbon Award since its founding, less than ten Texas schools can say they've received it on three occasions–much less received the award three times in a row. Winning schools have the opportunity to not only be recognized nationally for their efforts, but to be nominated again every six years. Kerr has received the award in both 2010 and 2016, and now again in 2022. 
"Earning this recognition once is amazing, earning this recognition a second time is extremely rare, but today, earning this recognition for a third time in twelve years is unheard of." – Intern Superintendent Gina Tomas
In honor of the news, board members Jennifer Key and Greg Eichhorn accompanied intern superintendent Gina Tomas to visit and announce the news at the campus. Following the weekly announcements, Tomas got on the intercom and reported the good news to the student body as student volunteers handed out blue beads in the centers and hyped up students. After the schoolwide announcement, Key, Eichhorn, and Tomas paraded around the school, chatting with and high-fiving students and making small talk with teachers and administrators.
"I could not be prouder of this school's leadership team and amazing team of educators who have succeeded in forming engaging relationships with students that allow them to reach their highest potential," said intern superintendent Gina Tomas. "Be a proud Alief Kerr Tiger today because you are attending one of the highest performing schools in the state of Texas."
After today's surprise school spirit day, principal Vinson Lewis and Tomas will be attending a board meeting to congratulate Kerr's accomplishment next Tuesday. And after that, they'll head to Washington D.C. to represent not only Kerr High School, but Alief and receive their well-earned national recognition.