Math Club Holds First Meeting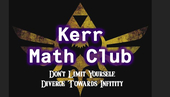 Kerr's Math Club had a quick meeting during advisory on Tuesday, August 23 in the Math Center.
The meeting covered matters relating to the next few meetings of the club. Returning members had the opportunity to sign up for officer positions. Who the new leaders for this year are can be expected to be revealed on Thursday, August 25, during an afterschool meeting.
The first official meeting will take place either next week or the week after.