ASA Appears in the Yearbook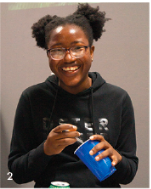 African Students Association(ASA) appears in 3 pages of the yearbook.
On pages 054-055 there are four photos of the ASA Thanksgiving potluck.
On pages 062-63 ASA's black mural put up and the BLM program are displayed  on the culture spread.
ASA's group picture is also shown towards the end of the book for club photos.