STUCO Has Board Meeting
On Monday, December 6, Student Council's officers and sponsor decided it was time to have a talk with their Executive Board members. They discussed their expectations for participation and attendance at each meeting and event hosted. After the initial talk, led by sponsor Adrian Garcia, the officers had one on one talks to certain EBs that the officers were concerned about. STUCO is making extra preparation to make sure the next semester has minimal amounts of stress.
This week is also Winter Wonderland. The EB teams, Pride and Publicity, has made and put up decorations every day for members participating to take pictures with.
STUCO, NHS, and NTLB also had a meeting during advisory last Thursday, December 2, to plan out their collaborated Snowy Social. At the meeting were the president and vice president of each organization. They discussed what they needed to do in order to have a smooth social next week. The social will be a potluck on December 14. They plan to play icebreakers, eat, sing, and dance.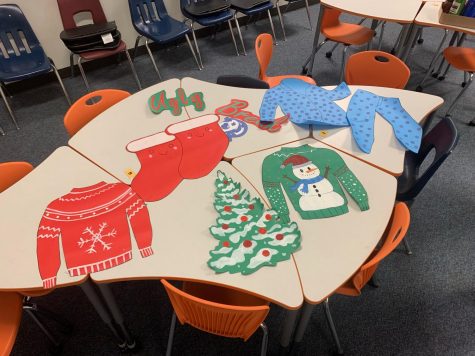 For the past week, Pride and Publicity EBs have worked together almost every day to create these back drops for Winter Wonderland.