STUCO Goes To District Meeting
This week, on November 8, STUCO had its first District Meeting at Katy Taylor High School. The
y left campus at around 8:30 AM and came back around 2 PM. After the meeting, they stopped by Katy Mills Mall for lunch.
At the district meeting, there was a guest speaker, Chris C, to emphasize the importance of culture in our community and mental health.
They still had open spots for the meeting, so Mr. Garcia ended up taking more people. The officers and committee leaders had priority since they paid for the first general meeting already before it got canceled. Due to not all the EBs wanting to go, they were able to open attendees to active members as well.
The STUCO Officers also customized their shirts Monday Morning for the meeting. They added their officer position titles to the sleeve of their shirts.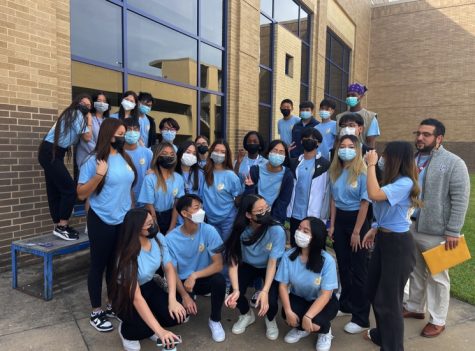 The attendees of the first district meeting gathered around outside Katy Taylor High School for a group picture after listening to the guest speaker.