Talking In Circles: Henriquez Delves Into the Realm of Competitive Sports
With many seniors busy writing last-minute college essays (or planning them extensively for months on end) and filling out heaps of college application forms, it's been difficult for most to find a constant within their quickly evolving lives as they prepare for college. However, senior Chris Henriquez, he has found his on a green field.
"I've been playing soccer competitively for six years now and I never get tired of the rush that comes with playing the game," Henriquez said.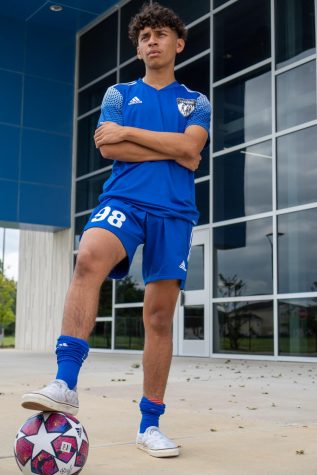 Henriquez currently plays for the Houston Legends 04-Bs. Teams within the league are constantly changing due to either player skill or size complications, but Henriquez has had the honor of playing with the same team for the past few years. 
"Playing with people you've actually taken time to get to know takes the game to another level of intimacy," said Henriquez. "It makes every win feel so much more special and every loss feel a little less lonely. I'm happy I got the opportunity to play with such amazing guys."
Despite the heartfelt message concerning his teammates, Chris is a force to be reckoned with on the field. "I'm not the team captain or anything of the sort, but I think everyone has the opportunity to be a leader when playing on a team," said senior Chris Henriquez. "We have to motivate and inspire each other. I always push myself to do better and be better when playing on the field," said senior Chris Henriquez. "I've always had this sense of competitiveness and the field is the perfect place to exert that." 
It's no secret that Henriquez has an infamous competitive streak, even if the circumstances don't require such determination. However, in terms of his drive during his weekly Saturday soccer games, his personality and corresponding efforts from his teammates have proved resolute. Their dedication and drive has given them opportunities to compete on a national level for the past couple of years.
"We work really hard and we're really proud of what we've accomplished thus far," said Henriquez. "We attend multiple practices every week, work out to stay in shape, and monitor our diets constantly, so it's nice to see the end result of those practices." While their methods may be somewhat tedious at times, many of them cherish even the tiniest aspects that come with playing the sport considering the time they have left on the team before going their separate ways.
"Covid was definitely a difficult time for us since my team sees soccer is a getaway, but we're happy to have been able to carry on after the initial lockdown," said senior Chris Henriquez. "If anything, Covid has pushed us to play even harder on the field with limited time left." In the league the senior plays for, players automatically graduate the system upon hitting the age of 19, leaving current high school players with only a few years before being thrust out of the extracurricular.
"I think because I enjoy the sport so much, it doesn't create stress within me so much anymore," said Henriquez. "Just being able to be on the field and do what I love gives me a sense of freedom. I don't ever want to let that feelin
When asked if Chris was going to continue the sport past his senior year, he hesitated before finally formulating an answer. "I definitely want to if I can," said Henriquez with a small smile. "But my parents, specifically my dad, want me to prioritize school first. I want to attend college and continue my education of course, but it'd be great to get scouted as well. I think that's all semi-pro athletes dream if they truly like the sport they play."