STUCO Plans Homecoming Spirit Week
This week, October 25 to October 29, STUCO hosted a Teacher Spirit Week. They had a different event each day to show off their appreciation for the staff at Kerr. On Monday, students were asked to donate a bag of candy for 1 point. On Tuesday, students were encouraged to twin with their teacher for 1 point. On Wednesday, students wrote notes and drew costumes for the teachers on the template provided for 1 point.  On Thursday, there will be a volunteering event to make the teacher goodie bags for volunteer hours. And on Friday, the officers and Task EBs will pass them out to teachers during advisory.
Also on Friday, STUCO will be hosting their first scary movie night after school in the cafeteria. They filmed an ad this week that will be released today. They will be watching The Haunting in Connecticut and selling snacks like pizza, popcorn, candy, chips, drinks, etc.
They have also been planning the Homecoming Spirit Week. Today they filmed their Homecoming Ad to encourage students to participate. They have Monday as Anything but a Backpack, Tuesday as Twin Day, Wednesday as Versus Day, Thursday as Act Your Age Day, and Friday as Purple Out.
Also, today is the final Pink Out Day in an effort to spread awareness for Breast Cancer Awareness this month. They will be taking a photo during B lunch at the main stairs case!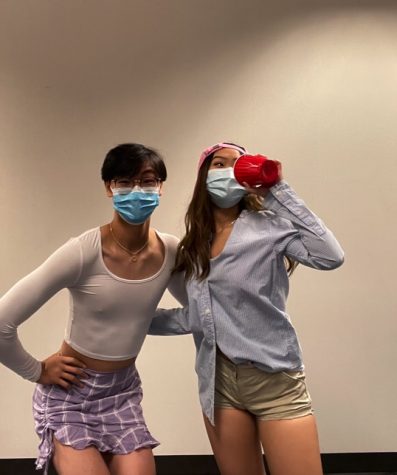 Here are two of STUCO's Officers, Tiffany Huynh and Tony Nguyen dressed for Versus Day! They are going as a Frat Boy and Sorority Girl! (Gender Swap for laughs!)