STUCO Releases EB Applications
On August 30, STUCO had its rush meeting and the turnout was way more than officers expected. They pre-printed 150 point sheets and actually had a shortage when handing them out. [Point sheets are available on the wall behind the main staircase.]
The officers collectively stated that there was an overwhelming feeling of support and community. Although there were many things that went well, there is definitely room for improvement. The officers plan to organize better and prepare days earlier.
There was also a STUCO video advertisement made by Alan Do.
Moving forward, after the meeting, they released E.B. applications, and have it set to be due by next Monday. The job of an E.B. is to help the officers plan events and activities for STUCO. It gives the students a chance to see what it's like to run STUCO without being thrown too much responsibility.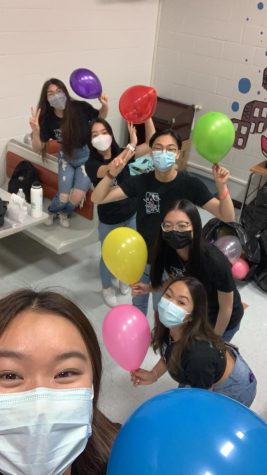 STUCO Officers (from closest to furthest from the camera): Vivian Le, Tiffany Huynh, Daniella Do, Tony Nguyen, Chelsea Phan, and Jacqueline Tran came to the cafeteria during first period to blow up balloons in preparation of their Rush Meeting.