Luu And Vuong Head To State
Kerr took a record number of art pieces to the regional Visual Arts Scholastic Event in February, and two artists — senior Jennifer Vuong and junior Elizabeth Luu — advanced to state competition later this month.
VASE is an annual art competition held in Texas by the Texas Art Education Association. This year regional was held on February 9 and state will be held on April 26. Students are given the option of bringing a maximum of two artworks, either 2D or 3D. Kerr artists earned regional medals for their entries.
This year, Alief hosted the regional competition at Taylor High School and will host again next year.
For the past 21 years, Kerr students — usually those enrolled for two semesters of art — have entered works in VASE. Sponsors and art teachers Lisa Canorro and Janine Hughes choose which pieces are entered through a selective process, because each entry is $17 and the district only pays $1,500. Some years, not every qualified piece is entered.
"We were lucky because [Principal Vinson] Lewis allowed us to take some of the bus money and put it towards the artworks," Canorro said, "so that Ms Hughes could take 50 pieces and I take 55 pieces."
Regional winners Luu and Vuong are both experienced VASE competitors. Both joined during their freshman years for different reasons.
The pieces that made to state were Vuong's "Afternoon Tea" and Luu's "Lucid Dreams at 4 AM" and "Late Nights."
"Afternoon Tea" was an assignment for Vuong's AP portfolio class based off her love for tea and classic renaissance paintings. She admired the organic colors and voluptuous women during the Renaissance Era, but Vuong wanted to make the scene more interesting.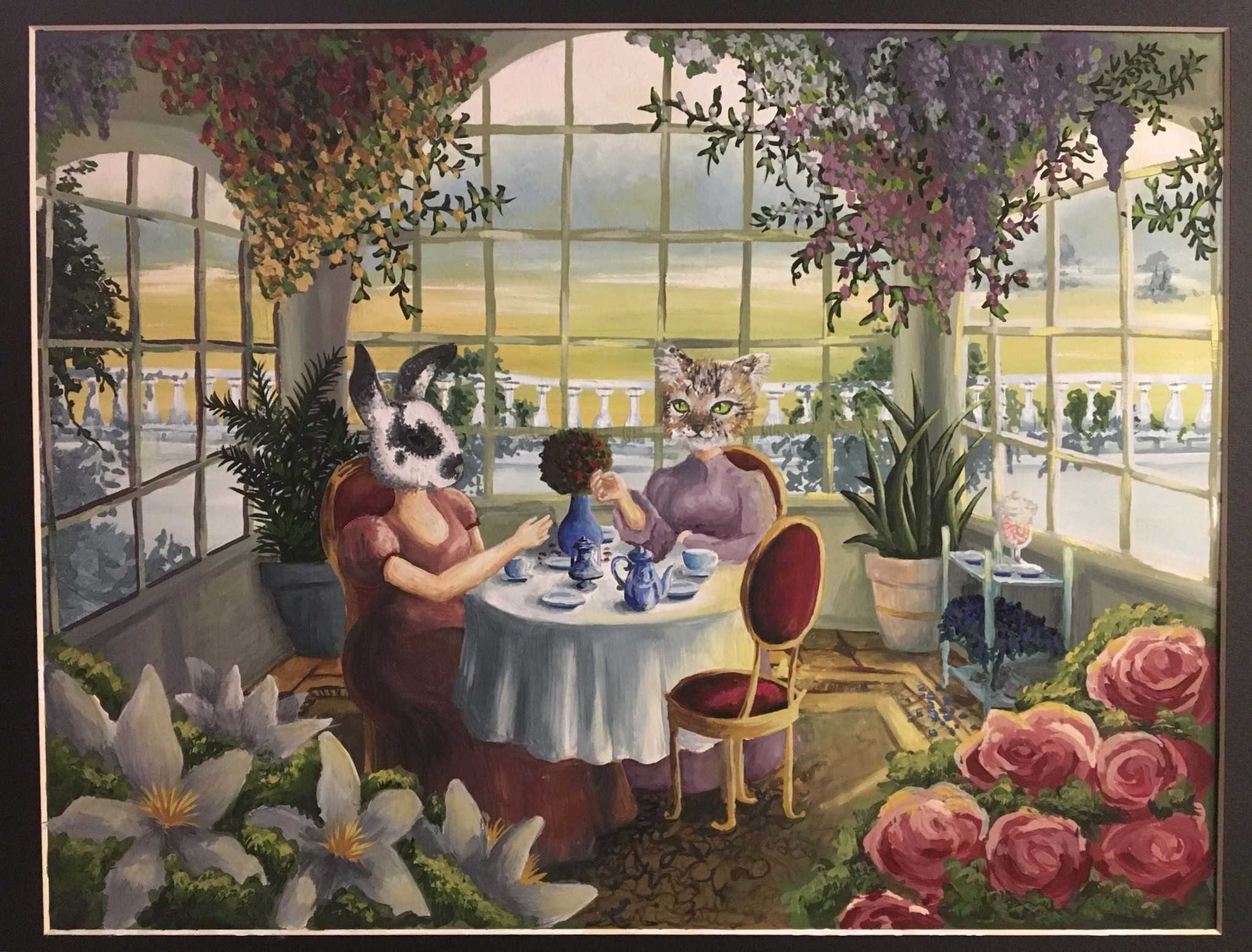 "Most of my pieces revolve around the idea of people being in regular settings you and I would experience, but with an imaginative twist that is not a norm to the viewers," she said.
For Luu, her pieces were inspired by her student life. Depleted and tired from all the work piled up, she decided to express her lack of motivation through her work. "I wanted to reflect my state of mind in that moment of time: stressed, burnt out, exhausted," Luu said.
Luu already made "Late Nights" early on during the year, whereas "Lucid Dreams at 4 AM" required more preparation.
"That piece was the final I never finished," she said. "The reason I never bothered to finished it was because I wasn't happy with how it turned out." Luu felt disappointed that her sketch turned out better than the actual piece.
However, she decided to continue to work on "Lucid Dreams at 4 AM," but with gouache instead of the watercolor she originally planned. Though not completely satisfied with the result, Luu accepted the fact that she tried her best to finish a piece.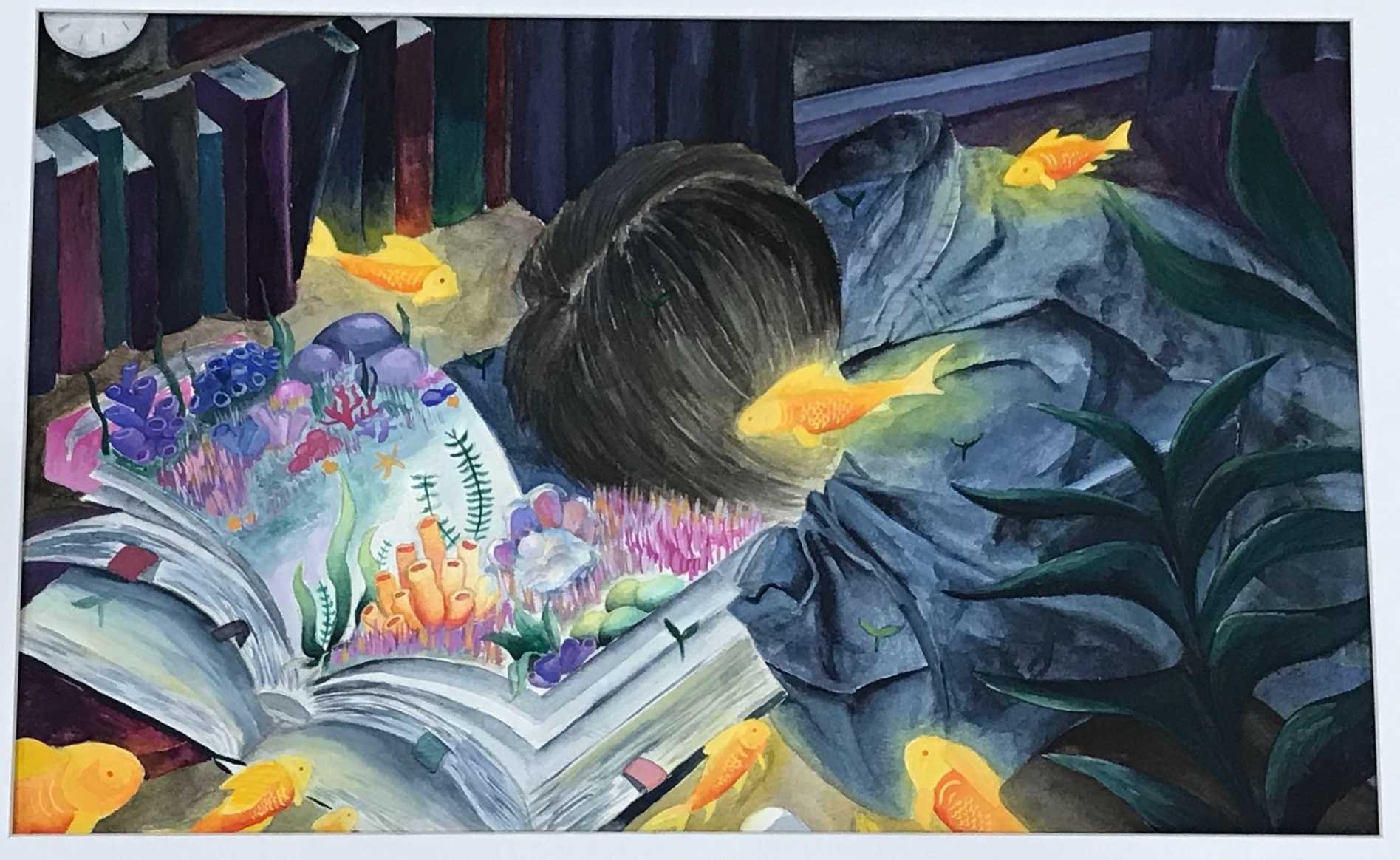 At the competition, judging began as students entered with their art.. Their pieces are scored based on an interview and the actual artwork. The standard for grading includes: student research and application to work (message/influences), sources of work, execution and technique, aesthetics and critical judgement, and personal expression.
After combining the two scores, students can get from a 1-4. A one is the minimum score with a total of 24-15 points. A two is 36-25 and a three is 50-37. The highest is a four, which is 51-60 points total.
After judging was complete, students worked the entire day assisting in the event. The artworks are set out in the gym and the judges come back at the end of the day to reevaluate all the pieces to see which ones they feel should go to state; they attach sticky notes as votes. The pieces with a certain amount of sticky notes advance onto the next stage.
At the end of the competition, teachers sort out over 2,000 artworks according to the schools and teachers. Teachers from other schools come by to pick up all of their students' pieces, which ends at around 8 PM.
"It's like art UIL," Canorro said.
Despite the hectic schedule, participating in VASE is an unforgettable experience for aspiring student artists. It's a chance for students to gain confidence and reflect on their works. "[VASE] is a place where you are surrounded by the creativity of other schools," Vuong said "sharing and critiquing each other's techniques and crafts."