Club/ Organization Feature: Ping Pong Club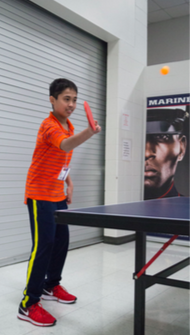 The purpose and goal of the club
The amount of tension and stress our school provides is unhealthy, and students need to have a way to cope with it. That is where the creation of ping pong club began, as a group of students who were stressed out with the school looking for a way to relieve themselves, they found themselves enjoying a game of table tennis. Soon it began to grow into a small club with the sole purpose of allowing students to temporarily forget all their troubles and settle for a friendly match with their friends.
Major events and activities or contest
Due to its traditional monthly meeting, the club does and cannot go beyond the walls of just ping pong games and tournaments. Because every member is treated equally with the slight exception of officers having to plan meetings, a club meeting always turns out into whatever everyone wants whether it be a bracket tournament where it would end in a ping pong champion or a simple game day where everyone gets a turn to play to their heart's content.
Officer and Sponsor name
Committed to bringing a new sport into Kerr, the 2017-2018 school year welcomed a very new sports club contributed to playing ping pong. In Ping Pong club, there is no designated position – president, vice president, secretary, historian, etc.… -for each officer,  however, they do have team officers, who cooperate to plan and arranges the meeting with the members. The officers of the 2017-2018 school years consist of Salar Sanati11, Steven Tan11, and Zhenbao Tan11.
How can you join? And how can you be considered to be a member?
Near the beginning of the year, there is an official meeting where anyone can come to sign up, and that would be how the first beginning members of the club form. However, throughout the year, as multiple meetings go by and others hear about a club that is all about just playing ping pong, the club finds itself picking up new members every meeting, and by the end of the year, there are more people than there was at the beginning of the year. People who join later would hear about the club from a friend, be interested and show up to a meeting and be allowed to play with everyone else. After that, it is up to them to decide whether they would want to come back next month or not.