Mabilangan Mystery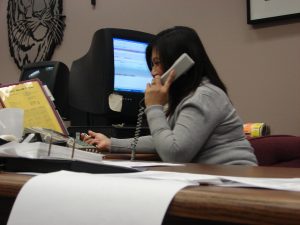 Much mystery surrounds Marites "Tess" Mabilangan. Not many people are sure of her actual job title.
"She's the financial receptionist," senior Elizabeth G. said.
"She's a paraprofessional," senior Julie N. said.
"She's the one who crunches the numbers," junior Collins M. said.
Mabilangan's official title is actually the financial manager of Kerr.
Though some students don't know exactly what Mabilangan does for the school, she actually plays an essential role in keeping Kerr functional.
She is in charge of handling all activity funds and non-budget money, such as keeping tabs on club fundraisers, managing student activity accounts, any kind of hospitality club for teachers, and writing checks for club purchases and trips.
"I monitor each club's account, like if they need fund-raising," she said.
Each month, she sends the administration building reports on account activities and sales tax collections for audit purposes.
"The reports are to make sure that we are in balance and that there are no discrepancies," she said.
Mabilangan also helps out in the front office.
"If I'm done with my deposits and checks, I answer the phone, like at customer service, or assist the parents if they have any questions," she said. "I also help Ms. Lee with attendance."
Mabilangan is the person who calls the administration building if one of the centers is having trouble with the air conditioning, and also issues temporary IDs to students.
Teachers who have worked with club activities and fundraising know just how useful Mabilangan's work is to Kerr.
"Oh! We couldn't make it without her!"  said Eileen Caetta, Spanish teacher and sponsor of the Class of 2012 and Muslim Students Association. "She knowss exactly how everything is supposed to be done."