Cardio with a new groove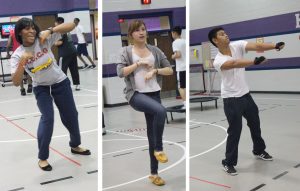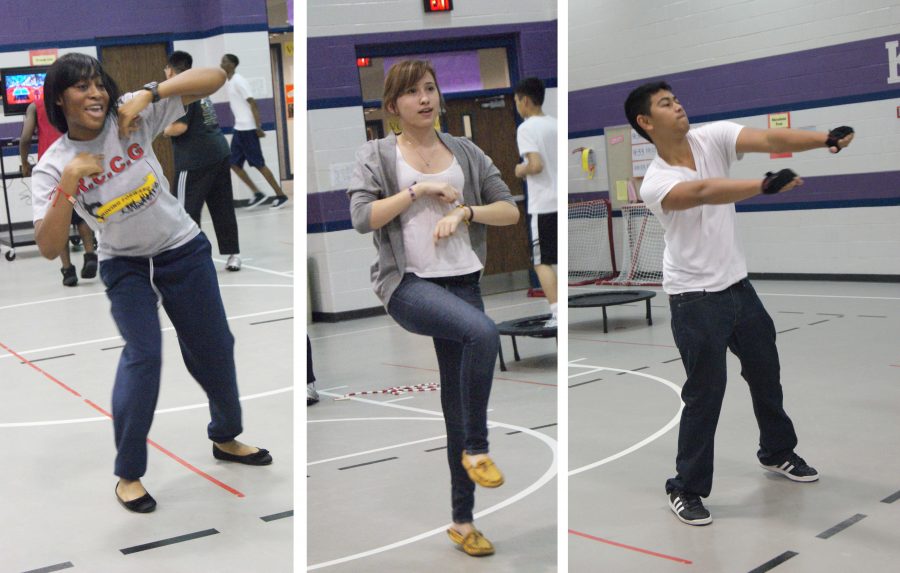 In the gym, music blares from the speaker system. About a dozen boys carry on a fierce full-court game of basketball, but no one says anything other than the occasional yell of triumph as a basket is scored. In a corner, two boys do high-five pushups. People jog around the perimeter of the brightly lit room, people sprint outside in the brisk air, people lift weights, people dance. No one is standing still.
Senior Phillisha D. has the Wii remote in her hand and is dancing vigorously to Michael Jackson's "Speed Demon." She has a broad grin on her face as she tries to mirror the Michael Jackson figure on the wide TV screen. Feet slide and arms flail back and forth in spirited rhythm, and while it may look like she is only playing a video game, Phillisha is actually in the middle of a cardio workout.
"I like the idea that you could be playing and getting fit at the same time," she said.
The game that Phillisha is playing, "The Michael Jackson Experience," is just one new addition in the the latest of a string of recent changes in the school's fitness program.
"We had some equipment but not that much," junior Aarohi P. said, recalling her first year at Kerr. "Now we have treadmills and ellipticals. It's more fun."
Many of the changes were introduced came last school year, when all of the Alief high school fitness departments received federal stimulus money to improve their programs. Kerr's fitness teachers Mary Pat Bailey and Jorge Diaz used the money to buy new equipment and technology for the fitness center.
According to coach Mary Pat Bailey, the district applied for federal funds and relegated $1 million for just high-school fitness programs.
"We were shocked, first of all, and then we were thrilled," Bailey said about having the funds for new equipment. "That's a dream come true."
"It was like being a kid at the candy store," fellow coach Jorge Diaz said. "Real happy."
Bailey and Diaz worked together with their students to decide how to use the money.
"Most of it was actually trying to decide what to get, trying to decide what kids were going to use," Diaz said.
According to Bailey, students looked through catalogs and kept a running "Wish List" of items that they wanted. She and Diaz then placed orders for the equipment.
"When the truck came with all the stuff," Diaz said, "it was like the old Toyota commercial where people jump in the air and go, 'Toyota!' It was like that."
With the new equipment have come changes in students' attitudes toward fitness.
"It's more fun having all the equipment," freshman Durand N. said. "It's nice knowing you have all that…It's more enjoyable than having a limited number of things to do."
"It makes you want to come [to the gym] more often," Phillisha said. "I come when I don't have homework during class and when I have off-campus."
Bailey and Diaz hope that they will be able to carry the program even further.
"I would love this to be exactly like 24-Hour Fitness, where you go in and swipe your card [and work out]," Bailey said. Already, she says, the new equipment has helped the fitness center move toward independent exercise.
"The beauty is that we see kids who don't have PE on their schedules coming in and working out on their own, which is a behavior we're trying to instill," she said. "They're not seeing it as 'I don't want to get sweaty.' They're seeing the benefits and buying into it…The attitude has changed drastically. It was like pulling teeth, getting them to work out. Now [the program] literally runs itself."
Phillisha believes the changes in the program will benefit future students even more.
"I think they'll be a lot more excited to be at Kerr…when they can go to PE and have fun while exercising," she said. "And they'll be excited that they actually lose weight while in the program. I think that PE will add more to what Kerr has to offer."