COMET comes to Kerr, opens new community service opportunities
About thirty children line up, entering an apartment building all while being monitored by what seems like supervisors. They're counted off one by one…twenty three, twenty four, twenty five. After everyone has been accounted for, the door is shut and kids are energetic as deers. They run around but quickly get tamed as the announcers called for snack time. Gogurt and Capri Sun is distributed to each one of them. Rampage describes snack time as the kids instantly devour their treats while discussing the most recent news about their video games, but that quickly changes when the supervisor call for homework time. They assemble with their respected tutor in different places across the apartment. That's when the Kerr volunteers spring into action.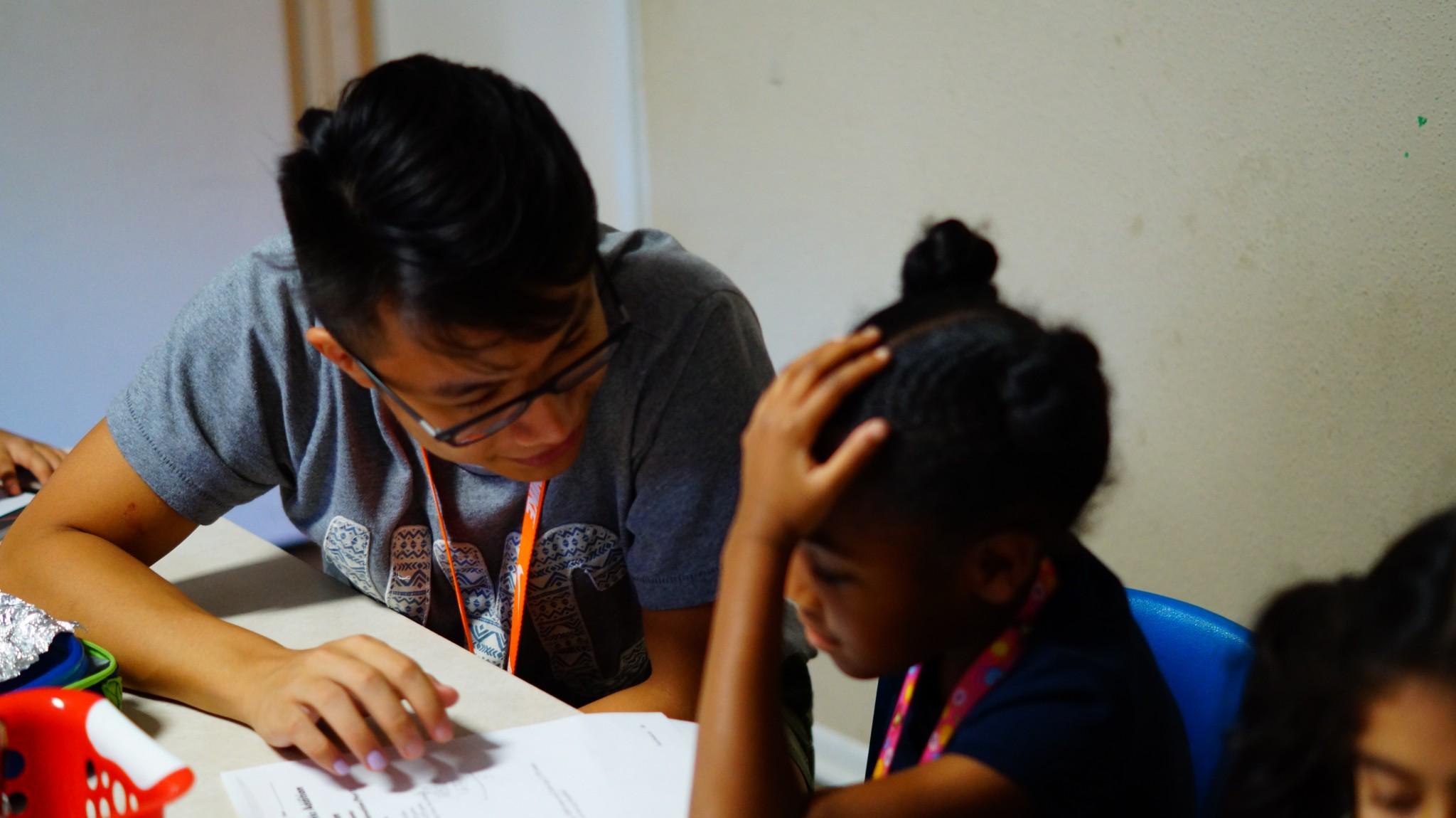 The COMET program, or Community Outreach Missions Education Team, has expanded to Kerr after successfully involving Alief Early College volunteers last year. The program came to Kerr this year, opening various opportunities such as scholarships, community service hours, and the development of experience with elementary school kids.
Senior Anna Lai is volunteers at the Catalina site every Friday. She supports the true purpose of COMET.
"COMET is an established organization that serves to bring together elementary who have a little of trouble socializing, engaging, or learning in any academic or physical activities. We, the student leaders, hope to bring color to their world and teach them in a way that helps them better comprehend," Lai said. "This is the first year that Kerr is attending this program, which is a shame because this is my senior year. But it'll suffice, because I'm able to still witness this amazing organization come to play."
District Web Specialist Tracy Lau is in charge of the program and is the one who brought it to Kerr volunteers. Lau sees various aims for COMET.
"The goal of COMET is to provide a safe and enriching after school environment for participating elementary students while engaging families to take an active part in their students' lives. Through my years of working with COMET, I've personally seen that the goal is achievable. In fact, we've become a model for other community-based district after school programs here in Texas," Lau said. "I have been assisting with the Alief ISD COMET Program since 2014. This year, I'm in charge of logistics, volunteer recruitment and retention and program publicity."
COMET offers many advantages to Kerr students.
"Every year, our high school volunteers tell me how rewarding it is to see COMET students grow in both their academic lives and also in their personal lives. In Alief, we always say that 'Meaningful Relationships have to happen before Meaningful Work can begin,'" Lau said. "Our high schoolers' commitment to the students allows positive relationships to grow, and as a result of that relationship, our high schoolers have been able to ensure that our elementary students are learning and getting the enrichment that they need."
Lau notices many improvements in the students' behavior.
"Our elementary students who participate in COMET have a higher attendance rate, less behavioral issues at school and often see improved test scores and report card grades," Lau said. "Above all, I feel that COMET students and their parents are more confident in their day-to-day lives because of the enrichment and empowerment we provide."
Similarly, Lai sees the enhancements associated with COMET.
"Since I go on Friday, which is mainly sports day, I don't really watch the students improve academically, but they learn a great deal with some of the activities the students take part on Friday such as soccer and playing on the playground," Lai said. "They are coached about sports and also receive exercise training from one of the fitness coaches there. I feel like this is very critical, because of how essential physical activity is."
Lau reached out to NHS Sponsor Toni Maness-Richards to introduce COMET to the NHS members, so they can encourage others to join. Maness said a lack of transportation kept Kerr students from participating in the past.
"Since now they offer the transportation, many students are able to participate," she said
Maness-Richards sees herself as a gateway between Kerr students and COMET.
"All I did was spread the word. There are many benefits in joining," Maness-Richards said. "You can tell if you liking working with kids. For those who volunteer on Friday and Saturday, which they usually do sports, it's a great opportunity to learn about training and being a coach in sports."
The benefits COMET offers convinced senior Anna Lai to join.
"I go to Catalina Apartments on Friday along with four other Kerr students. I have to provide my own transportation there, though. Aberdeen Apartments is where they provide transportation," Lai said. "I am not going to lie: Once I heard I can get an honors cord, I joined. You can also get a scholarship if you're chosen. There's also plenty of opportunities for leadership roles, as well."
Overall, Lau believes COMET has many positions open for high school students as well as parent volunteers.
"Not only do we make sure the students are taken care of, but their parents are also supported through free classes and opportunities to become site leaders. No words can describe how important our high school volunteers are to this program," Lau said.