Teacher of the Year: Volkova honored by recognition
"I didn't want to run initially, but students and fellow teachers convinced me to do so."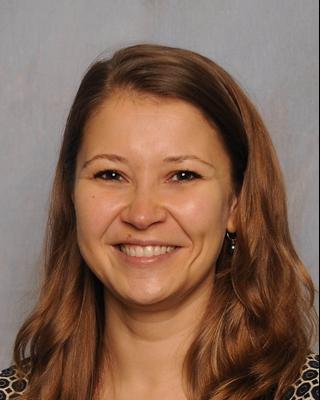 From not wanting to run to being crowned "Teacher of the Year," Social Studies teacher Evguenia Volkova has come a long way from this now ironic quote.
The title of "Teacher of the Year" is an award given to the teacher who has been chosen , by his/her colleagues, as one who has gone above and beyond the rest of the teachers in his/her field of teaching. The "Teacher of the Year" voting for the 2015-2016 KHS school year consisted of six candidates: journalism teacher Laura Negri, Spanish teacher Eileen Caetta, dual credit teacher Tommy Miller, band director Ashley Siegrist,P.E. coach Mary Pat Bailey, and Volkova. On January 21, Volkova was announced as the KHS "Teacher of the Year."
"I feel very honored and flattered," Volkova said. "I wasn't expecting to win the competition but I am very grateful that I did."
As campus Teacher of the Year, Volkova will receive a cash award and will be considered for district secondary teacher of the year. She and other campus winners will be honored and the district secondary and elementary teachers of the year will be announced at a ceremony April 21 at Taylor High School.
Volkova's win came as no surprise for other teachers who described Ms. Volkova's victory as just and deserving so.
"I knew it was going to be stiff competition," Caetta said. "It's nice that she was the one who received the award and I feel like she will be a great Teacher of the Year to represent KHS."
Bailey agrees.
"I think she deserves it," Bailey said. "I think she's an outstanding woman, teacher, friend and I'm thrilled for her. It is an honor and she 100 percent deserves it."
Most teachers who were nominated for the award, unsurprisingly, had been nominated before on several other occasions and even at different campuses.
"I have been nominated on two other campuses and I've been nominated I believe about four times here at Kerr,"Miller said.
Winning the competition came as a milestone for Volkova, who moved this year from the English to the Social Studies department. While grateful for the recognition, she would like to see more teachers recognized for their services. Seeing as there is a "Student of the Month" award, Volkova said having a similar event for teachers would be a great addition.
"I think it's a great idea to recognize the teachers for what they do and show appreciation for it," Volkova said. "I prefer to think that every teacher in this building comes in and does an outstanding job everyday or tries to. I think that teachers should be recognized more often for their contributions to teaching so a teacher of the month award would give us an opportunity to thank and recognize more teachers as opposed to once a year."