Hanging in the Balance: Upcoming bond election to determine implementation of big changes
Pens, rulers, sketchbooks, color pencils, and jumbo hardboards litter the narrow hallway. Like their class materials, the students are also scattered: some lean against the walls for support, others crouch over their artwork, and still more lay flat on their stomachs. Their various positions are not chosen for comfort, but due to the lack of space in art classrooms.
The art students are not alone in their struggles with inadequate room: Band, Orchestra, Choir, and Theatre also encounter multiple conflicts with the problem of a lack of space – conflicts that might be resolved with the May 9 bond election.
Among the list of improvements and constructions in the bond referendum is a new Kerr Fine Arts building. Although students and teachers express excitement at the news, they remain realistic, understanding that life will still continue even if the referendum is voted down.
Theatre teacher Julie Ryan has heard whispers about the possibility of a Fine Arts expansion for several years, but the bond referendum is the first to cement that possibility into an opportunity.
"Ms. [Ashley] Siegrist and I were the ones who created the recommendation," Ryan said. "We did a whole 38-page proposal for a Fine Arts facility two years ago, understanding that to some degree, it is already in the works, that they've already decided that there was a need. The District was just able to push it just a little bit further."
Senior Peter Niño has become intimately familiar with that need in his four years as an Orchestra member, and feels relieve that the need is finally being addressed.
"Right now, we're only given three minutes to go into one room to play a song," Nino said. "After we're done with those three minutes, we need to get out, get back in a line of like 10 people, and wait, and wait, and wait for only three minutes. This has been going on ever since my freshmen year, so hearing [about the bond election] is really eye-opening. We're finally having that chance to have that building."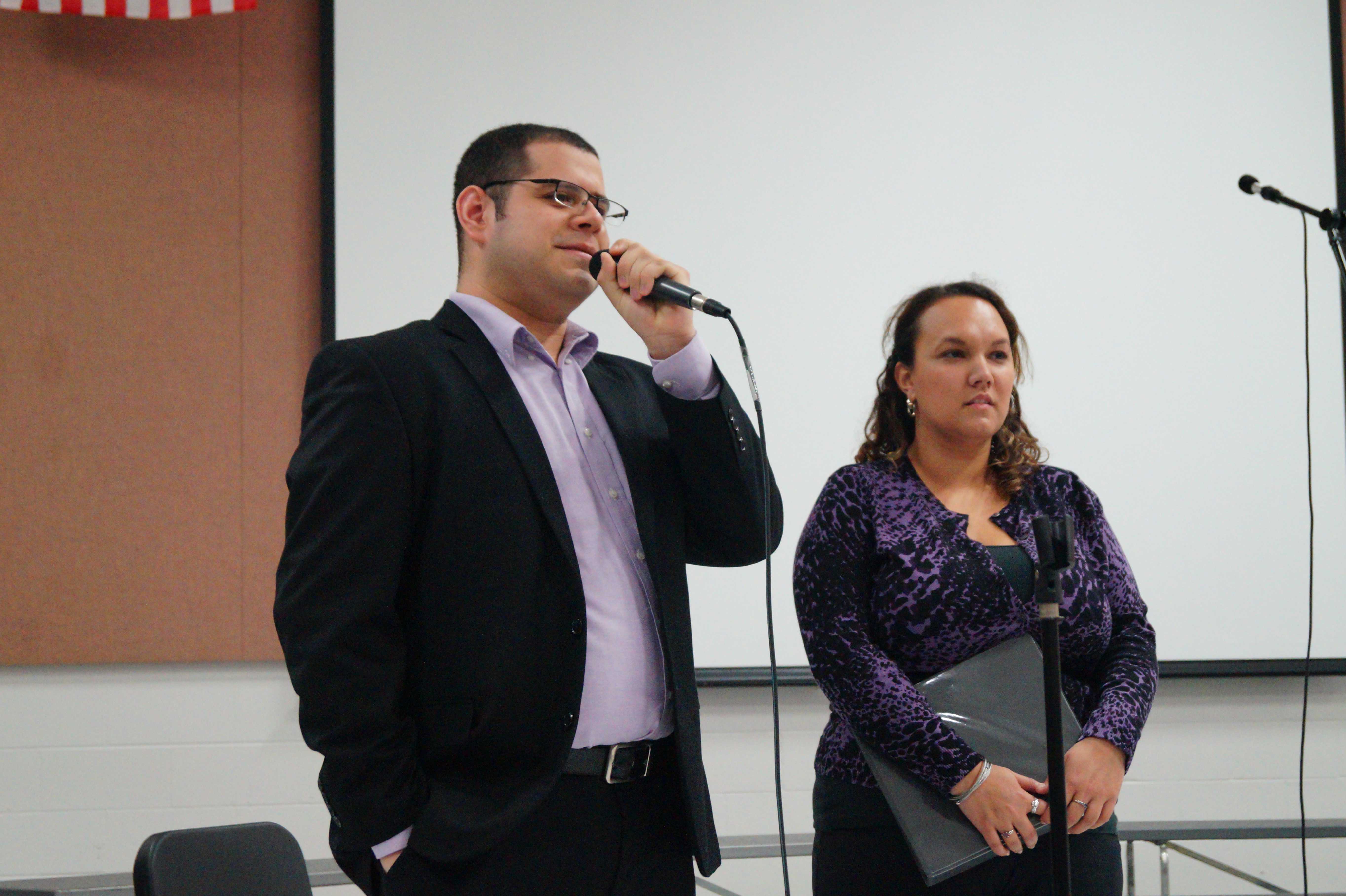 Choir members, such as freshman Pablo Herrera, have their own classroom. However, the low ceiling does not accurately reflect the sounds compared to a more practical and traditional practice room with a higher ceiling.
"We sound amazing in [the choir room]," Herrera said. "When we come out to the foyer, we have to tune ourselves a little more since it's a higher roof and the acoustics flies everywhere and it bounces back into us. It's like in a church, it sounds better there than like in your bathroom."
Similarly, Cadre Kerr members are cramped inside the small Black Box, unable to regularly practice on a proper stage. The President, senior Danyal Syed, can personally attest to this.
"The Black Box Theatre would [normally] be where you practice your runs, and your actual theater would be where you perform," Syed said. "For us, [the Black Box] is both our main theatre and our practice range. To get familiar with bigger stages, we have to borrow Elsik's. We bring everything that we have over to Elsik, rehearse there for a day, and then come back."
The multiple student enrollments in the art classes have overwhelmed art teacher Lisa Canorro.
"Between Ms. [Janine] Hughes and I, we teach about 440 students a year," Canorro said. "In first period, in order to [fit] all the people [who] want to take the class, I have to teach 50 to 60 people. My first period is packed so that there is enough room in second and third period that everybody fits in there. We've gotten to the point where… my students stack things up on the corner because there's no room for drying racks, there's no room to leave the mat cutter out for people to work with."
With the new space, Canorro hopes to expand her curriculum and perhaps add a new teacher to balance the influx of art class requests that she rejected prior due to the lack of space.
"If we were able to get a third teacher," Canorro said, "that would allow even more students to take the class… I can actually spend more time with my students. We may be able to have [more] computers, a bigger lab because these technologies are huge. Hopefully, [we could also] offer AP Art History so those students who like art, but don't necessarily want to do art, could get an AP credit in Art History."
While Canorro plans to narrow her focus, Ryan imagines boosting her cast and crew to a new level.
"A stage will open the doors and allow us to be much more competitive," Ryan said. "Although we're very competitive at those schools, that extra advantage will go far. We compete with schools with a minimum of 4000 students who most of them have 40- to 50-foot wide, 40- to 50-foot deep stages. That is not including wing space, lighting units, fly systems, anything like that."
Likewise, Nino believes that an increased availability of practice rooms would allow musicians to hone their skills even further.
Currently, "you expect to play one song where many other people are playing different songs," Nino said. "It's really fumbled. We can't hear as well. I feel like we have more of a chance to increase our skills in playing, and have our own playing time for ourselves instead of other people's."
However, these improvements and plans will be put on halt if the bond does not pass.
Due to the estimated tax increase of $6.02 per month for households valued at $100,000, Herrera postulates that the probability of the bond passing is 50-50.
"Some people will go on the negative side because some people barely make it for the month's payment for the rent," Herrera said. "Some have years and years' worth of money."
To Canorro, the benefit of the new facilities outweighs the disadvantage of the tax increase, but she knows that there will be individuals who do not feel the same.
"Some people just don't see the whole picture," Canorro said. "They see it as: 'they want more money, more money for what?' If people see what we're doing here at Kerr and at the other schools, all of the wonderful things. If we can't help [the students] learn more, and [they] want to learn all of this things, [but] we can't offer all we can offer, it's shortchanging [them]. A lot of people just don't think in terms of that."
Still, Canorro anticipates a positive voter turnout. For sources, she turns to the most recent and successful bond election in Fort Bend Independent School District (ISD).
"Usually, it's an indicator if it passes in one district, it'll pass in the other," Canorro said. "If Fort Bend's was approved, then I'm hopeful [the Alief community] will come out and approve this, as well."
Ryan has also decided to put her trust in the voters and that they will understand the need and situation at Kerr.
"I am cautiously optimistic," Ryan said. "I would love to think that people see a need for what we feel is an extreme need. There is such a huge need for more space here. I would love to think that the people are going to pass it."
According to Syed, the key lies in raising awareness.
"We have a large body of students who are over 18," Syed said. "They may say, 'oh, it's cool at one point,' but they may not be as resolute about [the Fine Arts addition]. I've been talking to any seniors that I've known in the past, some freshmen in college basically, any people in the Houston area [who can vote]."
Nevertheless, even if the bond is voted down, Nino does not believe that it will be the end.
"Just like anything else that was shot down, it's something sad," Nino said. "But then again, it doesn't mean we can't keep trying to aim for another building."
Syed feels the same. There will be future chances.
"We'll be disappointed," he said. "But I don't think it will be so much as, 'we're never gonna be getting another theatre ever again.' If it doesn't get passed, it's good first step. It'll definitely get the conversation going."