Student Council honors veterans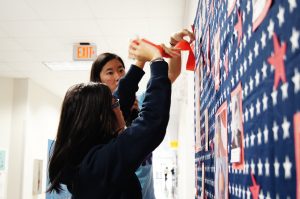 This week, students and staff passing the corner of the English Center will find a new decoration: in celebration of Veterans' Day on November 11, Student Council has put up its annual star-spangled veterans' wall, displaying the veterans among the staff and students' families.
According to Student Council sponsor Margaret Bancroft, the wall will be up for at least the remainder of November. Students and staff can contribute to it by bringing in the names and photos of family members who have served in the Armed Forces.
The idea for the Veterans' Wall came from technology specialist Cynthia Payne.
"It was something she had said she always enjoyed doing at the other schools she'd worked at, so she wanted to do that here as well," Bancroft said.
The idea lined up neatly with promoting patriotism, one of the objectives of Student Council's national objectives. Bancroft also believes the wall raises much-needed awareness about veterans' contributions.
"It's something that teenagers don't necessarily spend much time thinking about," she said.
For sophomore Kevin Cortez, who helped put up the display, the wall serves as a reminder to think about those very veterans and service members.
"It's nice knowing there's someone supporting us," Cortez said, "even though they don't get credit as much. So we use this time to recognize them."
Sophomore Trevor Dinh believes in the wall's message because of personal history.
"I had a friend that fought in Iraq. I have uncles that fought in the Vietnam War, and most of my family's refugees," Dinh said. "Since I know a couple of people who've been in the military, I honor them and their dedication to this country. I respect everything they do. I try not to get on their bad side."
As an acquaintance of veterans, Dinh will find himself in good company. Among others, the wall features such names as science teacher Eric Dunlap, hall monitor Tinsley Jones, and others well-known around the school. Bancroft believes it is important to for the wall to show faces familiar to students and staff.
"We just tend to see people in their typical day-to-day lives," she said, "and we don't always know their background, and it just helps you get to know people, build that sense of community."