British Invasion: Anglophiles enjoy popculture influences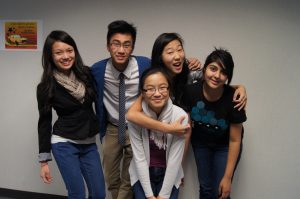 At 6 AM, the chorus of "Spectrum" by Florence and the Machine wakes senior Jenny Rahman. She glances at a collage of her favorite actors and musicians: The Muse, Cat Stevens, and The Script are just a few that line her room.
At school, her ear buds always play British Indie music by You Me at Six, Noel Gallagher's High Flying Birds, Blur, Kasabian, and Oasis. Once the 2:20 bell rings she goes home, has a snack and watches episodes of "The Misfits," "Skin," and the "Inbetweeners." After a few hours or so, she begins homework with her laptop streaming the radio channel XFM London.
"[British] music is down to earth," Rahman said. "They're not a cliché; they have something about them."
From the fandom that surrounds One Direction, "Doctor Who" and "Sherlock," the Olympic fever, British architecture, constant followers of the royal family to the rising taste in posh, British culture has found its place in American society.
British boy band One Direction hit the charts after winning "X-factor". According to Billbord Charts , their song "What makes you beautiful" lasted for 33 weeks.
"[One Direction's] music is uplifting. Their song 'What Makes You Beautiful' really makes you feels beautiful," junior Mikayla Marz said. "The British bands are catchy and bring their personality in their music."
While British music has made it to mainstream in the U.S, according to  British Broadcasting Corporation. British television shouldn't be factord out.
Junior, Jason Quach argues that "Doctor Who" is hipster, drawing its appeal from its opposition to mainstream culture.
"'Doctor Who' is different, it has a vintage aura that attracts a deeper origin of personality," Quach said.
Junior Brittany Trinh likes the well-developed plot lines and the motion-picture quality of British television.
"They just has better cinematography and actors," Trinh said. "I find British television is more filling; they spend time and effort into their work. 'Sherlock' is unlike any other American detective show—it is clever."
Sophomore Cristian Martinez, on the other hand, thinks Anglophilia comes from Americans' desire for depth.
"British culture is better," he said. "It's unique. It is not like the American 'trashy' culture. When I listen to Adele, it is emotional and something that I can relate to. The music just touches your heart."
The 2012 London Olympics can not be factored out either. According to the British newspapaer The Guardian,  approximately 27 million people watched the Opening Ceremony, ranking it in the top 20 most watched programs in history.
"I liked the Olympics slightly better in London than Beijing,"  junior Jennifer Ho said. "London was no match to the precision of the entertainers in the Beijing opening and closing ceremonies, they had performances from famous British singers that even Beijing couldn't beat, the fact that the UK brought The Beatles, The Spice Girls, One Direction, Adele, Jessie J, and other British artist's shows that the they rule in the music world."
She believes that the general environment of London also played a role.
"The British architecture was also a huge contrast to Beijing's because they had the London Eye, the Tower Bridge, and the newly built venues for these Olympics. Beijing was a beautiful host city, but it was like having the Olympics in Times Square. Londonwas surrounded by beautiful castles and their European inspired architecture is known around the world."
The Queen's acting debut in the opening ceremony was a comedic highlight of the Olympics, according to Ho.
"Besides the Queens influence, Prince William and Kate appearing in numerous Olympic events show the Royal Family's dedication to show pride for their Team Great Britain and they also serve as a symbol of peace in the  UK because they are kept together and everyone loves them."
Others argue that it's the elegant style that appeals to the American's audience.
"British clothing is posh," freshman Natasha Bermudez said. "In a fashion sense, the put together stuff that doesn't go together and somehow make it work. It's just different."
According to Rahman, the British culture has more to it than the mainstream music Americans listen to.
"There is more to British culture—it's not just One Direction," Rahman said. "There are so many underground bands and [television] shows that don't make it to the big screen. The British culture is elegant in a modern way which seems to really attract us. I find that everything that is British has this elegance, it's modernly elegant."
Whether blaring on American radios or hogging American television sets, British culture has a major influence in the American society because Americans tend to like new things.
"I believe British pop culture is a phase that teenagers might go through. Just as there was the phase for being scene, hipster, everyone must own skinny jeans, wearing shutter shades, and now probably British pop culture. "