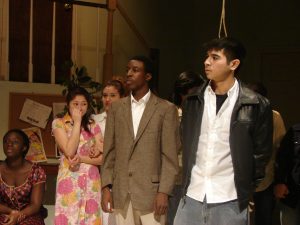 The room grows dark as the actors walk onto the stage dressed as beggars, asking the audience for money. After a brief introduction of themselves they reveal a play they are making and the audience watches intently to see what happens next.
The Beggar's Opera, as the play was called, is a sort of play within a play. The plot took place in the 1950s and was centered on the lies of a man called the Captain and all the women that fell in love with him.
The play starts off with the discovery of a secret marriage between a girl named Polly and a man known as the Captain. Her parents want him hanged so that their daughter will become a wealthy widow and they will share her wealth. Things are made worse by the fact that the Captain had been cheating on Polly and the other women in his life.
Story continues below advertisement
The end is unexpected as the actors stop the play and decide to change the ending so that the audience will remain pleased and will pay more money. This leads to a comic moment in which the Captain pairs up all of his wives and girlfriends with new husbands, choosing to keep only Polly for himself.
Freshman Danyel S. did a very credible job as the Captain­­­, a regular Casanova that made most of the women in the play fall in love with him. The part seemed to be made for him as he naturally acted out his lines to all the women in the play. His two main love interests played by Saira M. and Aztrid C. also did a good job of acting as enemies and made very realistic arguments between themselves and did a good job during their fighting scene. All of the actors worked well together and did a good job of bringing both their characters and the play to life.
Overall, the play remained entertaining from beginning to end as a plot unraveled, keeping the audience amused and eager to see what would happen next. The theater students of first period did a great job of pulling together a funny play that would be entertaining for anyone who likes good acting.