STUCO Gets Excited About Homecoming
On Tuesday, November 2, Student Council's general meeting was canceled due to lack of preparation and the absence of their sponsor, Adrian Garcia. According to their secretary, Tony Nguyen, everything felt really rushed, so they didn't feel like the meeting was going to be as successful as it could have been.
However, on the brighter side, this week is finally homecoming week. STUCO planned out all of the dress-up days prior and was so excited when they saw the number of people that participated.
Every day of the week, there was a school-wide photo taken at the main staircase. "There were so many people that some sadly got cut out in the photos. We didn't even have enough space to fit everyone on the stairs so they had to go off to the sides," said Vivian Le, STUCO Vice President.
As exciting as the game is, the officers also had to think past the fun and plan for their District Meeting next week.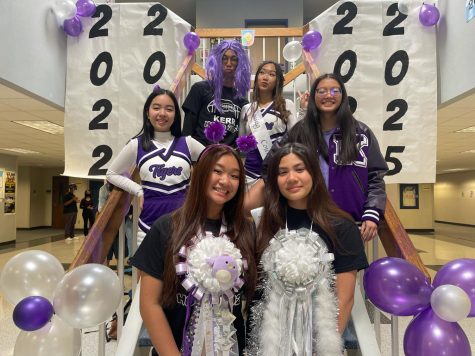 The STUCO officers gathered together after putting up the balloons at the front staircase for a photo. Everything was set up the day before, but by after the pep rally, some of the balloons were already popped.